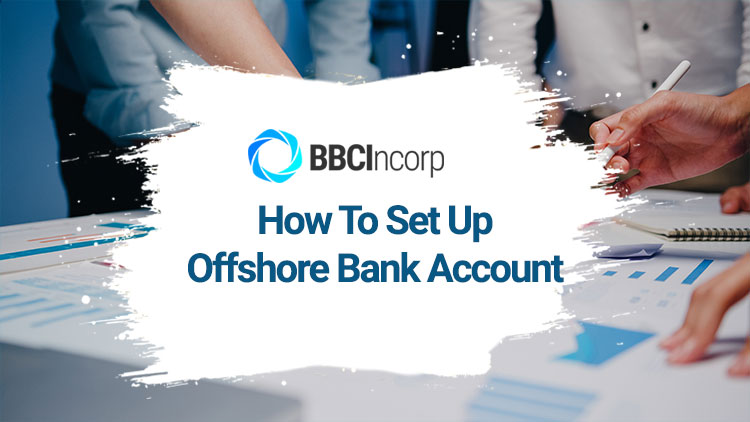 In a previous chapter, we have mentioned a range of benefits of having an offshore bank account that makes it a pull factor for any offshore investors and entrepreneurs. To continue on this topic, we outline detailed steps on how to set up an offshore bank account for you. Let's read on.
How to set up an offshore bank account
The process of setting up an offshore bank account is fairly simple and straightforward. In what follows, we illustrate a four-step guide to open and access an offshore account that you should know!
1. Select an offshore bank
This first step is very crucial since it is the basis for you in the right direction, and is an influential factor to benefits that you can obtain from offshore banking. Below we have some tips to help you choose the best-suited offshore banks:
Choose a stable offshore jurisdiction
Offshore banks are based overseas, therefore choose an offshore jurisdiction that is reputable and stable in both its economy and politics. With a well-capitalized and sound banking system, you can minimize the possibility of corruption, insecurity, bankruptcy, and other financial crisis that may be seen in your home country.
Do you want us to introduce you best countries for an offshore bank account for 2020? See our blog here.
Consider tax obligations which can significantly affect offshore bank's operations
When it comes to offshore banks, there are certain tax regulations for opening a bank account and foreign wire transfers. Note, however, that it also depends on each banking jurisdiction. Make sure you carry out thorough research or seek advice from a trusted service provider like BBCIncorp Limited to ensure that you well comply with its tax obligation and are legally entitled to tax optimization by dint of your offshore status.
Narrow down options in the consideration list
Each jurisdiction with its offshore banking system can have its own outstanding features. While some offshore destinations offer very low minimum initial deposit, economizing your company's money, some others can put more emphasis on better customer service for their clients.
On the other side, if you are in favor of convenience, flexibility and even we are at the moment talking about safety during unexpected events such as the widespread coronavirus outbreak (COVID-19) for example, then opening an offshore bank account that can be 100% done online will be ideal.
Hence, from the outset of your research, you should narrow down the options of your offshore banks which are in line with your company's strategy. This allows you to go to the right point and save plenty of time.
Decide on a best-suited offshore bank
After you have in hand a list of "potential candidates", you should select an offshore bank which is well-matched with your financial situation and meet your offshore demands. There are some parameters that you should clearly examine before going to the final choice. For instance, if best for savings is your top priority when opening an offshore bank account, then you should consult carefully matters of the set-up fee, maintenance fee, and minimum initial deposit as well.
2. Proceed to open an offshore bank account
In this main part, we outline a step-by-step guide on how to open an offshore bank account for you.
At first, like your domestic bank's requirements, you need to prepare basic documents for your identity verification. In most cases, the below documents must be submitted:
Name, date of birth, address, citizenship, and occupation;
A copy of your passport;
Residence proof such as driver's license, utility bill, or other identity issued documents by the government;
Personal bank statements and/or Bank reference letter; (*)
Proof of fund sources in the bank; (**)
Additional documents such as KYC form, CV of the shareholder(s) and director(s), business review, sales contracts, etc.
Note that these required documents must be notarized to prove its authenticity. Typically, most offshore banks will require you to submit either a certified copy of documents or an "apostilles" stamp which is a mark specifically served for verifying the foreign document's authenticity.
(*) Offshore banks require their clients to deliver their financial references to check their account balances, and support further evidence for their "legitimate" status. Normally, a satisfying bank statement verifying for the past 6 to 12 months will be sufficient.
(**) For a legal assurance of your source of fund, you can submit further documents such as a wage slip, proof for investment income, sales contracts, transaction-related materials, insurance payout letter, etc.
3. Choose an appropriate currency to keep your fund
By setting up an offshore bank account, you can decide which currency you keep money in. This is more advantageous in comparison with local bank accounts where you can only stay your fund holdings with the domestic currency normally seen unstable and devalued. However, it is noteworthy that choosing foreign currency for an offshore account can make you subject to foreign tax liability, and cost you a high amount when you want to exchange your current offshore currency into your domestic one.
Therefore, it is highly recommended that you think carefully about which foreign currency can benefit you the most.
For example, investors whose funds in US dollars are more likely to choose Hong Kong dollar as a perfect choice for their offshore accounts. The reason for this is the Hong Kong dollar is considered to be pegged against the US dollars, allowing you to submit very minimal cost when converting between those two kinds.
4. Understand how to optimize deposits and make withdrawals
More often than not, account holders fund their offshore accounts via international wire transfer. Notwithstanding, there is a transfer fee when you put your fund into the account through the wire transfer option, and this fee is not the same depending on each foreign bank.
In addition, please be advised that domestic checks or cash depositing is not popular and even not accepted by most offshore banks.
Like domestic accounts, offshore banks offer various choices for clients and customers to withdraw their funds. You can use an ATM or debit card; its fee, however, is quite costly. Take money out of your offshore account by using checks is acceptable, but it limits the widespread use and does not ensure your confidentiality. Use cash? Yes, you can. You are advised to make cash withdrawals with a big amount as it helps you to economize on the fee that you need to pay when withdrawing.
Another viable option for offshore account holders to access their funds is to closely "tie" the offshore account with the domestic one. By this, you will pay less fee, meanwhile, allow much more convenience and privacy when wire transferring between those two.
Conclusion
This article is to shed light on a clear guide to how to set up an offshore bank account for your company. It goes to be crystal clear that there is an escalating increase in the number of expatriates and corporations opening offshore accounts. The forces behind this are mainly in the great advantages of offshore banks outweighing that offered by banks of the home country, including lower tax burden, currency diversification, asset protection, confidentiality, and many more. How to open an offshore bank account is also straightforward and done-quickly. So do not miss out on your opportunity to get an offshore account now!
Should you need to consult us to get the best advice on which offshore bank you should choose and hassle-free with daunting tasks during setting up an offshore account, contact us now!