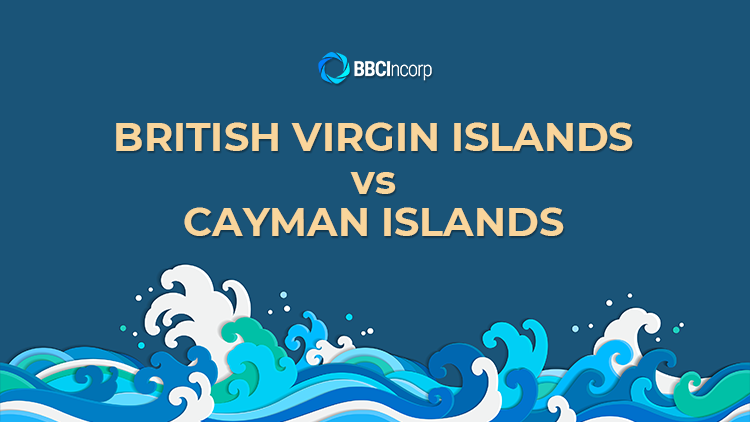 There are dozens of options for those planning to move forward with an offshore company formation. Prominent among these, the BVI or Cayman Islands typically appears as a top of choice.
The BVI vs Cayman Islands – Both excellent and prestigious tax-free jurisdictions are widely preferred by most individuals and corporations seeking offshore business. Notwithstanding, still there are some differences between these two, which creates the strengths for each one and leads people to make different final decisions.
1. The BVI and Cayman Islands: At a glance
The British Virgin Islands and Cayman Islands are renowned tax havens in the world. Both are British Overseas Territories in the Caribbean Sea and have an independent legal and judicial system.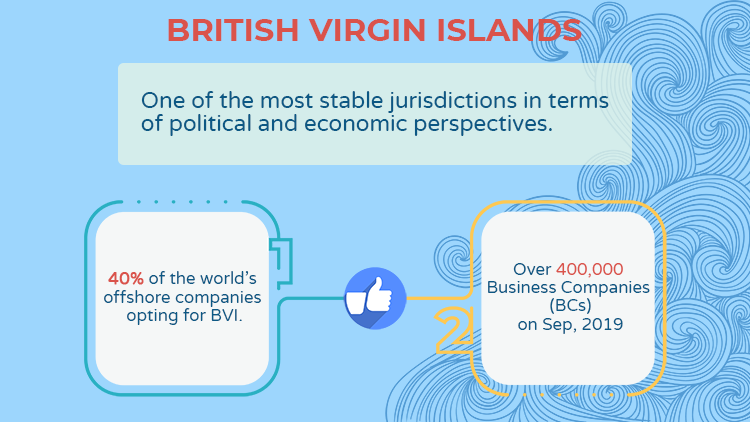 The BVI consists of around 60 islands in the Caribbean Sea, and likewise the Cayman Islands, it is well-known as one of the most stable jurisdictions in terms of political and economic perspectives. The BVI is also among the world's most prevalent offshore jurisdictions.
The ICIJ revealed that there were 40% of the world's offshore companies opting for this place to start their business. According to the FSC's Statistical Bulletin, over 400.000 Business Companies (BCs) – which is the most popular type of business entity in the BVI, were on the Register as of September 2019, affirming the country as one of the leading centers for company incorporation.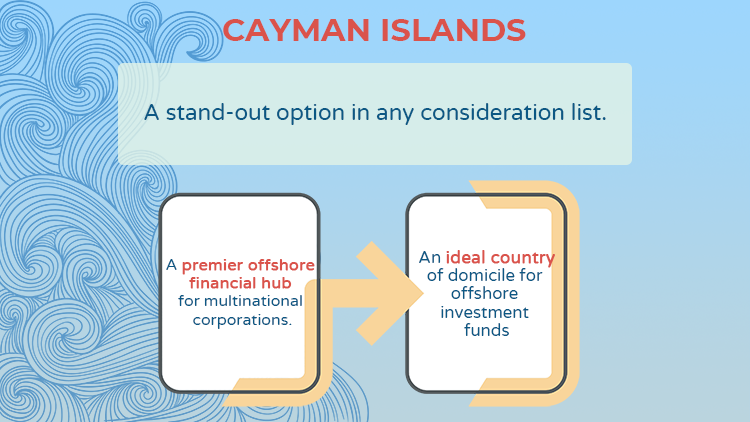 On the other side, the Cayman Islands is also a stand-out option in any consideration list of setting up an offshore company. Cayman is located in the western Caribbean Sea, and its legal system typically shares many common features with that of the BVI. This is derived from the fact that both are based on English common law jurisdiction.
When it comes to the Cayman Islands in the offshore world, it is well recognized as a premier offshore financial hub for multinational corporations, and an ideal country of domicile for offshore investment funds.
2. Similarities between The BVI and Cayman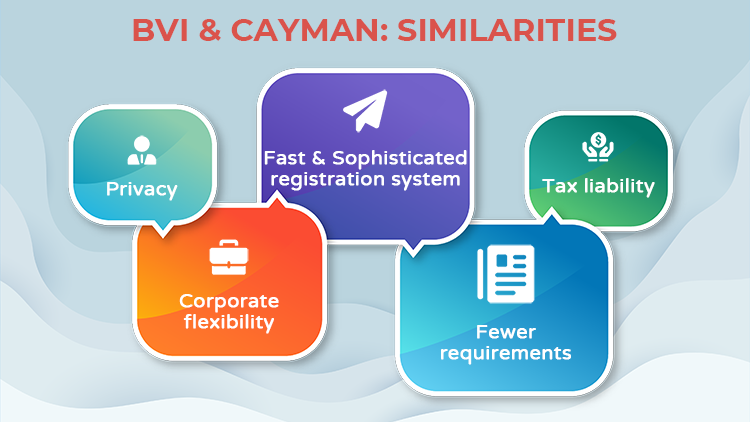 To delve into more similarities between the BVI and Cayman – other than their reputation, there may be countless things to say. Here are a few things that you should know, in respect of the benefits of offshore companies that these two countries offer:
Tax liability: Both countries do not impose corporate tax, capital gains, gift taxes, inheritance taxes, sales taxes, and value-added taxes, as long as that offshore company conducts outside their territories. All dividends, interests, and royalties are also exempted from taxes.
Corporate flexibility: BVI BCs and the Cayman Islands Exempted Companies are flexible corporate structures and do allow ease of incorporation. It is evident that there is no requirement for any of its corporate directors to be ordinarily resident of the country.
Fast and sophisticated registration system: A business company in the BVI, or an exempted company in the Cayman Islands can be incorporated during 2 – 3 working days.
Fewer requirements: No capitalization requirements. There is no requirement to have an annual shareholder meeting or submit financial records as well.
Privacy: Both offer a high degree of privacy. Registered information of directors, shareholders, officers will not open to public access.
Both the BVI and Cayman Islands are preferred destinations for offshore company formation. A large number of incorporations have taken place in two countries every year by virtue of their solid legal framework as well as well-developed company law.
3. The BVI vs Cayman Islands: What are the differences?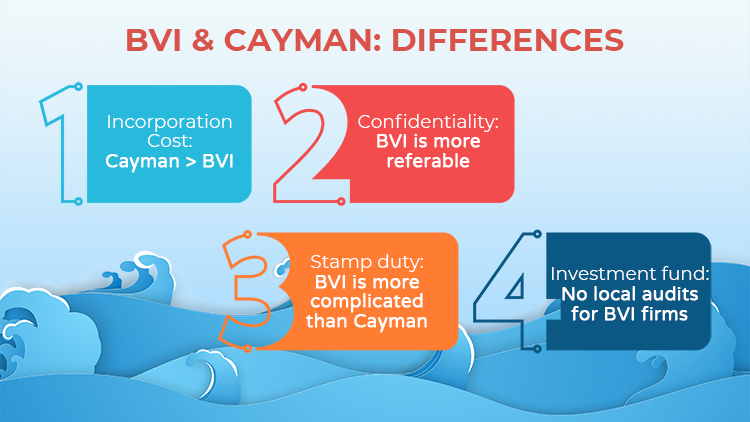 In spite of many similitudes, there are several differences between those two. Let's assume that you are desirable to open an offshore company and are being confused about The BVI vs The Cayman Islands, then below discrepancies can be essentially contributing factors to your final decision.
Cost of incorporation: The operation cost for the Cayman offshore company generally is higher than that of other jurisdictions, including the British Virgin Islands. Additional charges may also be included before and after your company incorporation. Therefore, looking for an all-in-one package of offshore company formation from a trusted incorporation service firm is recommended to save your money and resources.
Confidentiality: For those seeking the best place to keep their information of directors and shareholders well protected, you may prefer the BVI. The BVI's confidentiality seems to outweigh that of the Cayman Islands as it has in place a powerful regulatory system with strict confidentiality requirements for companies.
Stamp duty: In the BVI, stamp duty on all transactions in relation to transfers of any type of property of assets, shares, debt obligations, or securities to or by a business company is free of tax, except land-ownership transactions in the BVI. Note, however, that although no stamp duty is payable in the Cayman Islands on transfers of shares, it is still payable on certain documents, generally at a nominal rate.
Investment fund: Both the BVI and Cayman Islands require investment funds to be audited; however, there is no local audit requirement for the BVI companies. In another aspect, there are no custodial requirements for Cayman Islands companies. Conversely, the custodian is required for the BVI companies, but an exemption may be obtained.
4. The BVI vs Cayman Islands: Which to choose?
It is obvious that both the BVI and Cayman Islands are well recognized and sophisticated jurisdictions in which offshore investors and entrepreneurs can take dozens of advantages for their business growth.
Which country you should choose for an offshore company formation – The BVI or Cayman Islands, seems to be a tough question. In reality, determining which option should be well-matched with a meticulous examination of your company goals and objectives. We hope the above article will provide you some highlights of the BVI versus Cayman Islands, enabling you to get a better assessment for your choice.
Should you still have any questions on the BVI vs the Cayman Islands and need more advice on how to set up offshore companies in those two, do not hesitate to drop us a chat message or send an email via service@bbcincorp.com.