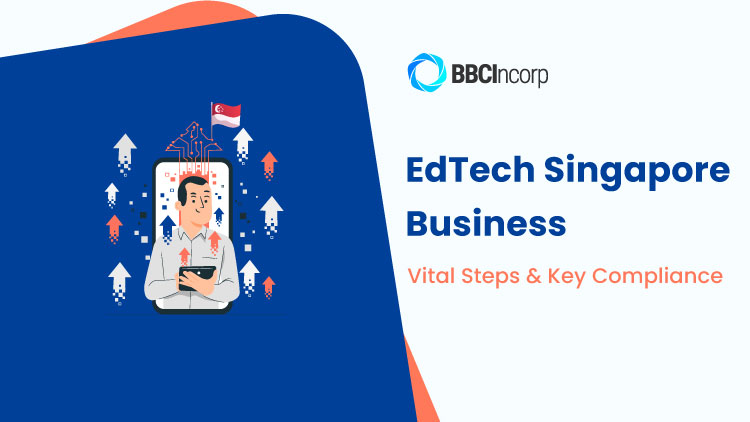 EdTech is an expanding market that draws the interest of foreign investors and entrepreneurs worldwide. As you consider launching an EdTech business, understanding incorporation and legal compliance is crucial.
Our step-by-step guide lays out everything you need to know, from necessary procedures to compliance requirements for successfully incorporating an EdTech Singapore business.
What is EdTech?
EdTech, or education technology, refers to the use of technology to enhance or improve teaching and learning. It encompasses various tools and resources, including online platforms, educational software, mobile applications, and learning management systems.
The goal of EdTech is to provide an engaging and interactive learning experience that is accessible to students anytime and anywhere. It can be utilized in various formal and informal educational settings such as K-12 schools, higher education institutions, vocational training centers, and corporate training programs.
With EdTech, educators can provide students with a variety of multimedia content, interactive activities, and simulations that can help them understand and retain information better.
The EduTech Singapore market has several major players leading the way. For instance, Doyobi offers virtual reality learning solutions that are fully immersive and interactive, while Cialfo provides college counseling tools and resources. Geniebook provides personalized learning solutions that leverage artificial intelligence, and Gnowbe offers a mobile-first microlearning platform for corporate training programs.
Reasons to set up a Singapore Edtech company
There are several reasons to set up an EdTech company in Singapore, such as:
The Singapore E-Learning market was valued at US$ 792.97 million in 2019 and is expected to grow in the coming years.
One key driver of this growth is the increasing demand for digital learning tools, which has been further accelerated by the COVID-19 pandemic. With schools and educational institutions moving to online learning, the adoption of EdTech solutions has surged, and this trend is expected to continue even after the pandemic subsides.
As the demand for digital learning tools continues to rise, it is an exciting time to tap into the EdTech market in Singapore.
Collaborative EdTech networking
EdTech networking plays an important role in fostering innovation and growth within the industry.
In Singapore, the EdTech Asia Summit stands out as the largest education conference and exhibition in Asia, providing a prime platform for EdTech startups in Singapore to connect with international stakeholders for partnerships and investment prospects.
This provides valuable opportunities for showcasing products and attracting clients and investors, leading to increased exposure and business growth.
Robust government support
The Singaporean government actively supports the growth of the Edtech sector through various initiatives.
For example, organizations like the EduSpaze, Singapore's first EdTech accelerator, provide startups mentorship, networking opportunities, and up to S$500K funding for growth.
By establishing your EdTech business in Singapore, you can leverage the government's support, access funding opportunities, and benefit from a thriving ecosystem that fosters collaboration and innovation.
International recognition
Singapore has gained international recognition as a hub for innovation and entrepreneurship. By establishing your Edtech company in Singapore, you benefit from the country's strong reputation, which can attract investors, partners, and customers from around the world.
Incorporating an EdTech business
Incorporating an EdTech business in Singapore is a streamlined process that can be accomplished through 3 key steps.
These steps ensure the establishment of your business following legal requirements, setting the stage for growth and prosperity within the vibrant EdTech industry.
Step 1: Choosing the right business structure
Choosing the right business structure is crucial when incorporating an EdTech business in Singapore as it protects your personal assets and allows your business to grow and thrive.
Compared to other structures like sole proprietorship or partnership, the private limited company (Pte. Ltd.) provides significant advantages for EdTech businesses, including limited liability, tax benefits, and flexibility for growth and investment.
Step 2: Reserving a company name
When incorporating an EdTech business in Singapore, one important step is to reserve the company name.
This involves conducting a company name check and ensuring it complies with the guidelines set by the Accounting and Corporate Regulatory Authority (ACRA), which requires the company name to be unique, relevant to the business, and not infringe on existing trademarks.
Choosing a suitable name is crucial as it reflects the vision and values of the EdTech business while being easily recognizable to potential customers.
Step 3: Registering your EdTech business
This step involves submitting the necessary documents to the ACRA, the official regulatory agency responsible for overseeing business entities.
If you are a foreigner looking to set up an EdTech business, it is mandatory to engage a corporate service provider to assist with the incorporation process. This requirement ensures compliance with ACRA's regulations and helps prevent potential issues.
After preparing the needed documents, you will be required to submit them to ACRA for registration. Once your application is approved, you will receive a Certificate of Incorporation. This certificate serves as an official confirmation of your EdTech business's legal existence in Singapore.
Legal compliance for EdTech businesses
Tax requirements for Edtech businesses
EdTech businesses in Singapore must adhere to the following tax requirements:
Goods and Service tax (GST) registration
Goods and Service tax (GST) is a consumption tax levied on the supply of goods and services in Singapore.
If your EdTech business has an annual taxable turnover exceeding SGD 1 million, you must register for GST with IRAS.
Registering for GST involves meeting specific turnover thresholds, submitting regular GST returns, and making timely payments to IRAS. It is crucial to ensure compliance with GST regulations and maintain accurate records of your business transactions.
Corporate tax filing and payment
It is essential for businesses to file their tax returns and make timely tax payments within 3 months from the end of their financial year.
Additionally, private companies must submit their Income Tax Return and supporting documents, such as financial statements and tax computation, before December 15 for e-filing.
After reviewing the tax returns, IRAS issues Notices of Assessment by May 31 of the following year. Payment of the corporate tax mentioned in the notices must be made within one month. Adhering to these timelines is crucial to avoid fines or summons of directors for tax liabilities due to late filing, as determined by IRAS.
Note
There are 3 types of tax forms for corporate tax filing in Singapore:
Form C-S: Singapore-incorporated companies with annual revenue of $5 million or below.
Form C-S (lite): Singapore-incorporated companies with annual revenue of $200,000 or below.
Form C: If your company does not qualify to file Form C-S or Form C-S (lite), you must file Form C.
Annual filing and accounting obligations
Complying with annual filing and accounting obligations is essential for businesses in Singapore to meet legal and regulatory requirements in financial reporting. By fulfilling these obligations below, your business ensures transparency and compliance with Singapore's legal framework.
Business must maintain proper bookkeeping records, which includes financial statements, cash flow statements, and balance sheets for a minimum of 5 years.
Annual filing requirements include filing the annual return with ACRA within 30 days after the Annual General Meeting, ensuring that the company's registered information remains up-to-date.
The Estimated Chargeable Income (ECI) must be submitted to IRAS within 3 months from the end of the fiscal year to appraise the company's income for a given Year of Assessment.
An audited financial statement, prepared in accordance with the Financial Reporting Standards of Singapore (SFRS), may be required unless the company qualifies for the exemption as a "small company" based on revenue, assets, and employee criteria.
Other compliance requirements
Ministry of Education (MOE) Guidelines
Compliance with the Ministry of Education's (MOE) guidelines is essential for operating an educational technology business in Singapore. These guidelines provide a clear framework for educational content, ensuring its alignment with the national curriculum.
The national curriculum frameworks outline the learning objectives, core subjects, and assessment methods for different educational levels, including primary, secondary, and tertiary education. EdTech businesses must ensure that their educational content is accurate, relevant, and culturally appropriate to meet the standards set by MOE.
Personal Data Protection Act (PDPA)
Ensuring the protection of user data is of utmost importance for EdTech businesses in Singapore. This is why strict compliance with the Personal Data Protection Act (PDPA) is crucial.
The PDPA mandates that businesses obtain user consent before collecting, using, or disclosing personal data. Ensuring that the collected data is accurate, up-to-date, and protected from unauthorized access or disclosure is necessary.
Prioritizing data protection is not only a legal obligation but also a customer-centric approach that instills confidence in users entrusting their personal information to your EdTech platform.
Licenses and accreditations for EdTech companies
Private Education Institution (PEI) license
If your EdTech business offers private education services, obtaining a Private Education Institution (PEI) license is essential. This license ensures that your company meets the standards set by the Committee for Private Education (CPE), the regulatory body overseeing the private education sector.
To apply for a PEI license, you must complete an application form and submit it, along with the necessary supporting documents, to the CPE. Please note that the processing time for the application can take up to 4 months.
Obtaining a PEI license for your EdTech business showcases your commitment to high-quality education and compliance with CPE regulations. It builds trust with students and enables you to legally provide private education services.
EduTrust Certification
EduTrust Certification is a highly regarded accreditation in the education sector, signifying excellence and credibility in the provision of education services. Awarded by the CPE, this certification is essential for enrolling international students in your EdTech company.
To qualify for EduTrust Certification, your business must hold a valid PEI license. The certification is initially granted for 4 years and requires renewal thereafter. It serves as a testament to your commitment to maintaining a high standard of education quality and further enhances your reputation as a trusted education provider.
Intellectual property (IP) protection for EdTech businesses
Protecting your intellectual property (IP) is essential for the success of your EdTech business. IP refers to the unique ideas, products, and services that set your business apart.
In Singapore, you have the opportunity to register your trademarks, patents, and copyrights with the Intellectual Property Office of Singapore (IPOS). This registration ensures legal protection for your intellectual property assets.
Trademarks safeguard your brand identity, patents protect your inventions, and copyrights secure your creative works. By registering your IP, you gain exclusive rights and the ability to take legal action against infringement.
Wrap up
Incorporating an EdTech Singapore business opens up exciting opportunities for growth and expansion. However, it is crucial to understand and comply with the legal requirements and regulations that govern the industry. This ensures that your business operates within the framework of the law and maintains the highest standards of professionalism.
BBCIncorp understands the challenges that come with setting up an EdTech business in Singapore, especially for foreigners. With a dedicated team of experts, you can rest assured that we will handle the Singapore company incorporation process on your behalf, ensuring all documentation is accurate and submitted promptly.
If you have additional concerns or require personalized guidance on incorporating your EdTech business in Singapore, please feel free to contact us via the chatbox or email at service@bbcincorp.com. We are committed to providing timely and reliable support to help you navigate the whole process.
Disclaimer: While BBCIncorp strives to make the information on this website as timely and accurate as possible, the information itself is for reference purposes only. You should not substitute the information provided in this article for competent legal advice. Feel free to contact BBCIncorp's customer services for advice on your specific cases.
Share this article
Get helpful tips and info from our newsletter!
Stay in the know and be empowered with our strategic how-tos, resources, and guidelines.