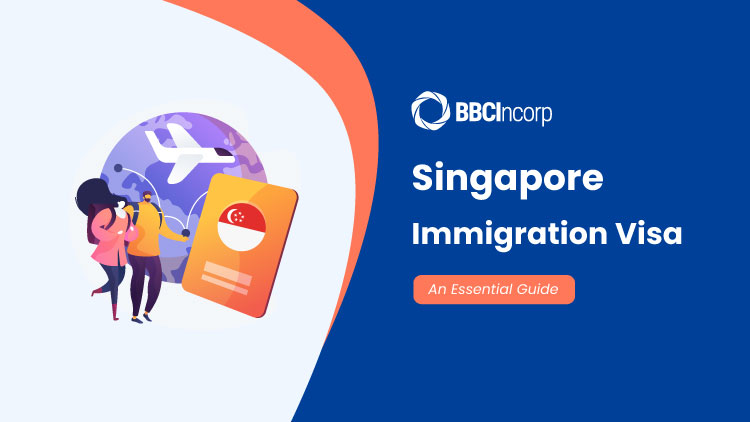 Singapore's immigration policy may seem complex at first glance, causing potential immigrants to feel overwhelmed.
However, the country has a comprehensive and efficient visa scheme designed to cater to diverse needs, whether you're seeking employment, business setup, or simply wish to establish residency.
In this article, we'll walk you through the key aspects of Singapore's immigration visa, demystifying terms like work passes and permits, and providing you with the necessary insights to navigate your migration journey with confidence.
What is an immigration visa in Singapore?
An immigration visa, issued by Singapore's Ministry of Manpower (MOM), provides you the authorization to reside in Singapore for a specified duration.
Unlike traveling visa, which is typically short-term and non-renewable, immigration visas are designed for longer stays and can be extended or renewed as needed.
Why do you need an Immigration Visa?
An immigration visa is a legal document allowing you to reside in Singapore for work, business setup, or residence. If you plan to stay in Singapore for more than 90 days, you must obtain an immigration visa.
However, it's important to note that having an immigration visa alone does not grant employment or work rights. To work legally, you must obtain a valid Singapore work pass or permit from the Ministry of Manpower (MOM).
Apart from facilitating your stay, an immigration visa also provides access to various benefits and services, including healthcare, banking, and other public services.
Considering these advantages is crucial when planning your immigration. By securing an immigration visa, you open doors to a wide range of benefits and services, making it an indispensable part of your overall plan.
Who needs an immigration visa?
There are several categories of individuals who are required to obtain an immigration visa in Singapore. These include:
Entrepreneurs
For aspiring entrepreneurs looking to establish a business in Singapore, obtaining an immigration visa allows you to reside in the country while overseeing and managing your business operations.
Business owners
Owners of businesses that are based, either partially or entirely, in Singapore often need to be present in the country for various reasons, such as attending annual general meetings or signing important documents. To fulfill these requirements, an immigration visa is necessary.
Professional
For professionals looking to work with Singaporean companies, obtaining an immigration visa grants you a legal stay in the country for your employment, ensuring compliance with regulations.
Workers
Immigration visas are mandatory for semi-skilled migrant workers in industries like garment, construction, marine, and food processing who wish to seek employment in Singapore.
Family members
If you're considering moving to Singapore to reunite with your family members, such as your parents, spouse, and children, an immigration visa can be the most effective and streamlined option available.
Types of Immigration Visa in Singapore
There are various types of visas available in Singapore, each tailored towards different purposes such as work, education, retirement, or family reunification.
Type 1: Work Visa
Work visas are available for individual foreigners who wish to work in Singapore and can be obtained from the Ministry of Labor.
Some of the most common types of work visas include:
Employment Pass: For professionals, managers, and executives
EntrePass: Mostly used by entrepreneurs
Personalized Employment Pass: Upgraded version of Employment Pass
S Pass: For mid-skilled workers
Training Employment Pass: Required for trainees or interns
Type 2: Student Visa
Student visas are applicable for foreign individuals planning to study full-time at a government-approved institution. This visa will grant you legal status to stay and study in the country for the duration of your studies.
It's important to note that student visa applicants must provide proof of financial stability and secure accommodation in Singapore before being considered.
Common work visas include:
Student Pass: For full-time students
Long-Term Visit Pass: Used by part-time students, interns, or those on short courses
Type 3: Retirement Visa
Retirement visas are an option for those who are entering retirement age, typically aged 55 or above, and plan to settle down in the country permanently.
Successful applicants must be able to show proof of adequate funds and meet the financial requirements set out by Singapore's Ministry of Manpower (MOM).
Type 4: Dependent Visa
Dependent visa holders are typically family members such as spouses, children, and parents of employees who have a valid work pass. The same eligibility criteria apply for dependent visas — applicants must have proof of financial stability, and meet the financial requirements set by MOM.
How do I apply for an Immigration Visa?
Applying for an immigration visa can be a complicated process. You must meet the criteria set by the Ministry of Manpower (MOM), which may vary depending on the type of visa and the purpose of your immigration.
Necessary documents
You'll need to have the following documents for applying:
A passport that has a validity of six months beyond your stay in Singapore
Proof of ability to financial support stay in Singapore (e.g., bank statement, bank book, salary slips, etc.)
Birth certificate or marriage certificate (if applicable)
An invitation from relatives (for dependent visas)
Evidence of being vaccinated for Yellow fever (if applicable)
Proof of employment if you're applying for a work visa (e.g., employer declaration, job offer letter
Other documents as required by MOM
Submission of application
Once you have all the necessary documentation, you'll need to complete the online e-Visa application form and pass any background checks that may apply.
Depending on your visa type, this could include a Dependent Pass Application Form (for dependent visas), Employment Pass Application Form (for work visas), and Long Term Visit Pass Application Form (for tourists).
Once all forms are filled out, submit them along with your documents to MOM for processing, either through an online portal or via mail.
Your application may take up to 6 weeks to process, so be sure to plan accordingly and allow ample time for your visa application.
Simplify your immigration process with BBCIncorp
We specialize in the application for Singapore Employment Pass and Dependent Pass. Our service is designed to make your visa application process as fast and easy as possible.
With BBCIncorp handling your visa application, you can focus on what truly matters – preparing for your new life or career opportunity in Singapore.
Contact us today to get started on your Singapore immigration journey.
The bottom line
The Singapore immigration process can be complex, but with the right preparation and guidance, it becomes easy.
Overall, if you are considering relocating to Singapore for any purpose, it's best to start looking into the various types of visas available in order to ensure a smooth transition.
Whether you're going for work or family reunification, taking the time to understand the immigration process can help you make the most out of your stay in Singapore.
If you need help with your Singapore visa application, drop us a message via service@bbcincorp.com today, and let us make your move to Singapore hassle-free!
Frequently Asked Questions
Is Immigration Visas and Work Pass the same?
While immigration visas and work passes might seem similar, they serve distinct purposes in Singapore.
An immigration visa is a broad term, catering to various categories such as work, education, retirement, or family reunification. It is general permission to reside in the country for a specific period.
On the other hand, a work pass is a specific type of immigration visa meant exclusively for individuals intending to work in Singapore.
This pass is typically sought by professionals, semi-skilled workers, or business owners who wish to operate or be employed in Singapore.
What documents do I need to apply for a work pass?
The required documents for a work pass application will depend on the type of visa you are applying for.
Generally, you will be asked to provide basic information such as
passport details
educational qualifications
employment history
Additionally, some sponsors may require additional documents such as police clearance certificates or medical reports.
It is best to double-check with your employer or sponsor to make sure that you have all the necessary documents for your work pass application.
Do I need a work pass to start a business in Singapore?
Yes, you are required to obtain an Employment Pass or Entrepreneur Pass if you wish to set up and operate your own business in Singapore. This is regardless of the size or the nature of your business.
Disclaimer: While BBCIncorp strives to make the information on this website as timely and accurate as possible, the information itself is for reference purposes only. You should not substitute the information provided in this article for competent legal advice. Feel free to contact BBCIncorp's customer services for advice on your specific cases.
Share this article
Get helpful tips and info from our newsletter!
Stay in the know and be empowered with our strategic how-tos, resources, and guidelines.