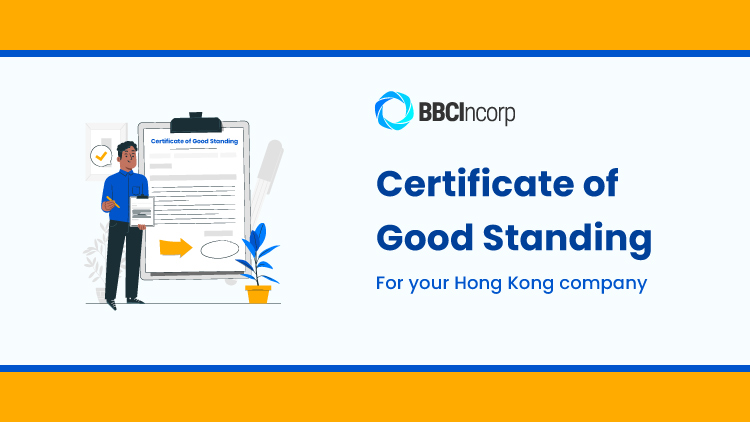 For business owners who have companies registered in Hong Kong, maintaining a strong legal standing with the government is crucial. The Certificate of Good Standing serves as a valuable resource for achieving this goal, providing tangible proof of your ongoing compliance with the jurisdiction's laws.
What information does the certificate encompass and how do you apply for one? Let's explore the details in our article today.
What is a Certificate of Good Standing in Hong Kong?
In Hong Kong, a Certificate of Good Standing is typically referred to as a Certificate of Continuing Registration (CCR). This certificate is issued by the Companies Registry confirming the company in question is either:
A local company; or
A non-Hong Kong company incorporated or registered in Hong Kong under the Companies Ordinance; and
The company remains registered in the Companies Register.
The CCR is used to demonstrate the continuing registration of the company with the Companies Registry, establishing its status as a legitimate and active entity in Hong Kong at the time of issuance.
How necessary is this certificate to your business?
Unlike a Business Registration Certificate, a Certificate of Good Standing is not mandatory for every business and doesn't need to be publicly displayed.
However, a Hong Kong Certificate of Good Standing is often required for various purposes, such as conducting business transactions and opening bank accounts, as it demonstrates the company's consistent legal status to other parties.
The importance of this certificate can vary based on your unique circumstances. For many businesses, especially those engaging in financial transactions, entering contracts, or operating in regulated industries, this document is indispensable.
Get your Hong Kong company up and running in no time
Our corporate services make Hong Kong business incorporation effortless and stress-free. By choosing BBCIncorp, you'll be free from the complexities of legal regulations and compliance. We provide support for opening bank accounts and so much more.
Discover how we can empower your business today!
In general, a Certificate of Good Standing is only needed when it is requested by a relevant party. It provides an extra layer of assurance and credibility, making interactions with banks, partners, clients, and government authorities more seamless.
Moreover, if your business has international aspirations or deals with foreign entities, the certificate may be a prerequisite for expanding and gaining access to global markets.
What information does this certificate include?
As in Hong Kong, a Certificate of Good Standing typically encompasses the following features:
Company information
Company name: Your unique Hong Kong company name as registered with the Companies Registry
Registration number: The unique company registration number assigned to your entity.
Date of incorporation: The date when the company was officially incorporated.
Company type: Indicating whether it is a limited liability or an unlimited liability company.
Active status
The certificate confirms that the business is currently active and recognized as a legal entity within Hong Kong. This status is crucial for business operations and transactions.
Furthermore, this implies that your Hong Kong company has not filed articles of dissolution or certificates of cancellation.
Legal authorization
The certificate mentions that the establishment is registered under the Companies Ordinance and is authorized to conduct its business activities in Hong Kong, operating in compliance with the laws and regulations of the jurisdiction.
Official seal and Signature
In most cases, the certificate is stamped with the official seal of the Companies Registry, and it bears the signature of an authorized officer.
To help you navigate better, below is a sample of the Certificate of Good Standing, or Certificate of Continuing Registration in Hong Kong (for reference only).
How do you apply for the Certificate of Good Standing?
Now that we've explored the content of the certificate, it's time to shift our focus to obtaining it.
The process of applying for a Certificate of Good Standing, or CCR, is accessible to any member of the public, who may apply on behalf of a live local company or a registered non-Hong Kong company.
To obtain a Certificate of Continuing Registration for your business, you can simply follow the steps below:
Step 1: Submit an application
First, you will need to submit an application to the Companies Registry. The application process offers two options:
Online application
You can apply for a CCR online through the "Product" section of the Registry's Cyber Search Centre. Those who prioritize convenience and efficiency may prefer this method.
In-person application
Alternatively, you can opt to apply for the certificate directly at the Registry's Public Search Centre. This is located on the 13th Floor of the Queensway Government Offices, 66 Queensway, Hong Kong.
Step 2: Pay the fees
The fee payable for application is currently HK$170.
It is important to make sure that you include this required fee when submitting your application to the Companies Registry.
Step 3: Wait for approval
Based on the method you choose and the workload of the Companies Registry, the processing time for the CCR may vary. Most certificate issuance requests are handled by the CR within only a few days.
Step 4: Collect your certificate
Upon the CR's approval, you can either pick up the certificate in person or have it delivered to your address.
For online applicants of the certificate
In this case, you shall have the flexibility to decide between two options:
Collect the CCR in person at the Companies Registry's Public Search Centre; or
Have the document delivered to your address by post or courier* (with fees)
If you opt for certificate delivery by post or courier
The CCR will typically be sent to the designated delivery agent within approximately 6 hours from the order time, excluding intervening non-service hours and non-working days.
Please be aware that the actual delivery time to your location hasn't been included yet.
For those who submit their application in person
There is only one available option: receiving your certificate on-site at the Public Search Centre.
Do make sure that you have the required documentation and identification, such as your application reference number or personal ID when collecting the CCR.
To wrap up
In summary, the Certificate of Continuing Registration, or the Certificate of Good Standing, holds a vital role in the Hong Kong business landscape. It signifies your company's adherence to legal and regulatory requirements, thus boosting credibility.
While the CCR may not be a universal requirement, it stands as a valuable asset for entrepreneurs aiming to solidify their business reputations. Therefore, you should seek assistance from a trusted service provider to obtain these essential documents.
Should you require additional information on doing business in Hong Kong, don't hesitate to contact us via service@bbcincorp.com. Our dedicated team is ready to offer timely support!
Disclaimer: While BBCIncorp strives to make the information on this website as timely and accurate as possible, the information itself is for reference purposes only. You should not substitute the information provided in this article for competent legal advice. Feel free to contact BBCIncorp's customer services for advice on your specific cases.
Share this article
Get helpful tips and info from our newsletter!
Stay in the know and be empowered with our strategic how-tos, resources, and guidelines.