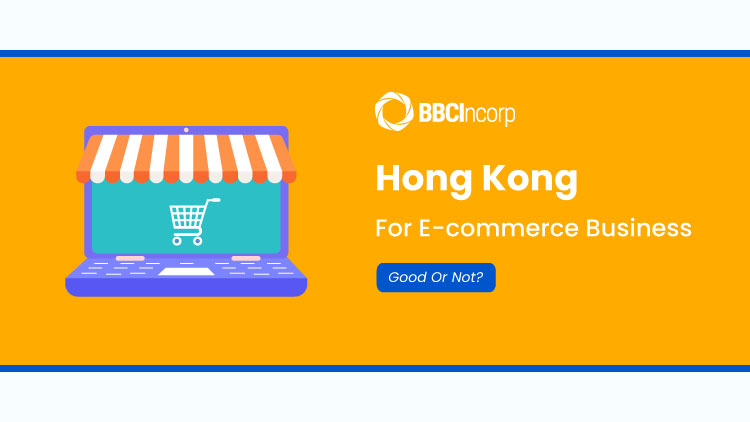 E-commerce has become a growing trend in Asian countries, and Hong Kong is the top option for establishing eCommerce businesses.
This blog provides you with major reasons why Hong Kong is a worth-considering place for an eCommerce venture. Follow along with us!
Potential growth in online business
With an estimated market size of US$73.1 billion by 2023, Hong Kong is a thriving powerhouse in the eCommerce industry – offering endless potential for growth and expansion to any business looking for success in this sector.
According to Statista, the Hong Kong eCommerce industry has demonstrated impressive growth in recent years.
The annual growth rate for eCommerce business revenue in the year course of 2020 -2025: 12%

Est. market volume for HK eCommerce business:

US$11,308m by 2025
Booming eCommerce market
The online market in Hong Kong has experienced a remarkable transformation due to the pandemic between 2019 and 2021, with 73.1% of its citizens now using eCommerce platforms and predicted to reach 83.8% by 2025. If you are seeking a location for your own eCommerce business, then this destination is sure to be worth exploring.
The combination of Chinese, Hong Kong, and Western cultures also makes the Hong Kong market attractive to international brands, offering the opportunity to reach different customer segments and further expand the business.
The potential for eCommerce in Hong Kong is crystal clear. Another striking reason why entrepreneurs should pick Hong Kong to set up an eCommerce business is this city's digitally-savvy shopping population.
Digital-savvy shoppers
Hong Kong consumers are highly knowledgeable when it comes to technology, making it a prime location for starting your eCommerce venture. In fact, many high-end brands already have Hong Kong as their first target market when entering the Asian region.
With Hong Kong having access to high-speed internet and leading a fast-paced lifestyle, they'll become the perfect candidates for any eCommerce business.
The city has all the necessary technology infrastructure in place for consumers to take advantage of online shopping, so embracing your brand won't be an issue since they are already familiar with the concept.
Business-friendly tax regime
Hong Kong boasts one of the most attractive tax systems in the world, given that businesses are only liable for taxation on Hong Kong-generated income.
This remarkable city has one of the lowest tax rates in the world at just 16.5%, driving many Amazon vendors and eCommerce players to make Hong Kong their business hub.
Specifically, the Hong Kong tax system can offer you:
Corporate income tax rate: 8.25% (for the first HKD 2 million) and 16.5% (remainder)

Capital gains tax rate: 0%

Tax on dividends: 0%

Withholding tax on dividends and interests: 0%

Sales tax or value-added tax: 0%

Tax rate on foreign-sourced income (profits derived from outside Hong Kong): 0%
Advanced banking system
Hong Kong, widely regarded as a financial hub of Asia, is renowned for its dependable banking system. In fact, 70 out of the world's top 100 international banks have offices in Hong Kong – an astonishing testament to the strength and influence of this city's finance industry.
For international entrepreneurs wanting to open a bank account for their eCommerce business, Hong Kong banks should be at the top of the list.
If you're applying for a bank account in Hong Kong, don't forget to bring along all the necessary documents needed for authentication. This includes sales records, product listings, revenue, and sales volume – having these ready will guarantee that your application is approved swiftly.
Opening a local bank account in Hong Kong can be daunting due to the demanding due diligence process and personal interviews. Fortunately, there is a solution!
Fintech platforms are alternatives to traditional bank accounts in Hong Kong, providing an effortless registration for those wishing to manage online eCommerce, without the burden of lengthy processes or intimidating meetings.
Modern technology infrastructure
E-commerce businesses put heavy reliance on network security to ensure the safety of customer data. Any customer can be discouraged from shopping with your brand if they think that their credit card information is not secure while making purchases at your store.
Therefore, Hong Kong is the best place for eCommerce businesses due to its stringent data security laws and regulations. The city has a robust cybercrime law that ensures customer information is protected from any malicious attacks, and it is also known for low levels of cybercrime.
In addition to this, Hong Kong also has a professional cyber security team that ensures that any threats or suspicious activities are dealt with swiftly and effectively.
Easy company formation
Hong Kong is home to one of the most efficient company incorporation processes in the world. An eCommerce business can be registered and operational within days, and the government offers a range of incentives to encourage entrepreneurs to set up ventures here.
As a business owner, you tend to believe you can handle everything on your own – from the preparation of documents and paperwork to filing for registration and opening a bank account.
However, wasting time on these back-office tasks may distract you from where you should be focusing your attention – growing your eCommerce business.
By engaging a professional service provider, for your company formation, you can rest assured that all the necessary steps for successful registration are taken care of, leaving you to focus on your real mission.
BBCIncorp is a professional corporate services provider in Hong Kong. We provide a range of services that help you set up an eCommerce venture easily, quickly, and within a reasonable budget.
Chat with our consultant, or drop us a message via service@bbcincorp.com for practical, actionable advice.
Disclaimer: While BBCIncorp strives to make the information on this website as timely and accurate as possible, the information itself is for reference purposes only. You should not substitute the information provided in this article for competent legal advice. Feel free to contact BBCIncorp's customer services for advice on your specific cases.
Share this article
Get helpful tips and info from our newsletter!
Stay in the know and be empowered with our strategic how-tos, resources, and guidelines.