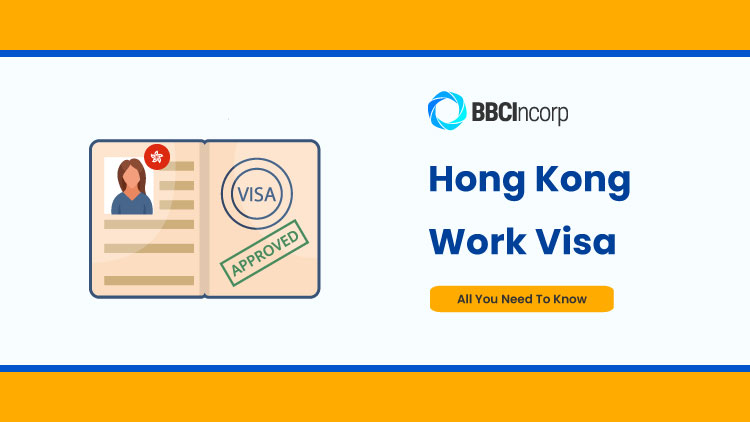 Are you considering Hong Kong as your next business destination? If so, understanding the intricacies of obtaining a work visa is an essential first step. Hong Kong's dynamic economy offers a wealth of opportunities, but securing the right to work legally is a gateway you must pass through. The process can often feel overwhelming, with various visa categories and administrative requirements to keep track of.
This is where our blog steps in – to simplify the complexities and offer you a clear overview of securing a work visa in Hong Kong. Whether you're an entrepreneur, a skilled professional, or looking to join the vibrant start-up scene, our insights aim to arm you with the knowledge you need to confidently embark on your Hong Kong journey.
What is a Hong Kong work visa?
A work visa is an official document issued by the Hong Kong Immigration Department, granting permission to a foreign national to work legally in Hong Kong. It is an essential requirement for individuals from abroad who intend to pursue employment opportunities in the city.
When a foreign national receives a work visa, it implies that they are permitted to work in Hong Kong for the duration and under the conditions specified in their visa approval.
Work visas come under various schemes, each tailored to specific types of work and eligibility criteria. Your particular visa scheme is determined by factors such as your qualifications, the nature of your job offer, and your personal circumstances.
Visa schemes in Hong Kong
Hong Kong offers a range of work visa schemes to cater to different categories of applicants, including:
Talent admission schemes
The term "Talent Admission Schemes" typically refers to various visa and immigration programs implemented by the Hong Kong government to attract and retain foreign talents and professionals who possess specialized skills, knowledge, or expertise that are in demand.
Common visa categories in this scheme may include
Employment visa under the Quality Migrant Admission Scheme (QMAS):
This visa category is designed to attract highly skilled individuals from around the world to settle in Hong Kong. Visas issued under the Quality Migrant Admission Scheme are typically valid for one year and can be renewed for an additional year.
General Employment Policy (GEP):
The GEP visa aims to attract individuals with skills, knowledge, or expertise that are valuable and not readily available in Hong Kong. The initial validity period of a GEP visa is usually linked to the length of the employment contract, which can vary from several months to several years. Extensions are possible if the employment relationship continues, subject to approval by the Immigration Department.
Admission Scheme for Mainland Talents and Professionals (ASMTP):
This category is dedicated to mainland Chinese residents with specific skills and expertise. ASMTP visas are typically valid for one year but can be extended as long as the employment relationship remains valid, and the applicant continues to meet the scheme's criteria.
Technology Talent Admission Scheme (TechTAS):
TechTAS is designed to attract technology professionals and experts to work in Hong Kong's technology sector. These visas are usually issued for the duration of the employment contract, with the possibility of extension if the employment continues.
Eligibility criteria for Talent Admission Schemes
The eligibility criteria may vary depending on the specific visa category, but generally include the following:
Relevant skills or expertise: possess specialized skills, knowledge, or expertise that are in demand in Hong Kong.
Job offer: have a confirmed job offer from a Hong Kong employer, which aligns with the skills and expertise of the applicant.
Educational qualifications: have a minimum level of education or specific professional qualifications relevant to the field of work.
Language proficiency: proficiency in the English or Chinese language (Cantonese or Putonghua) may be required
Health and character requirements: meet health and character requirements, including providing medical certificates and police clearance certificates.
Other criteria such as age, family background, financial status, innovation & technology, and so on.
Please note that the criteria may change over time in response to the region's evolving needs and priorities.
Investment as Entrepreneurs Scheme
The "Investment as Entrepreneurs" scheme is a visa program that allows foreign individuals to obtain the right to reside in Hong Kong for the purpose of establishing a new business or investing as an entrepreneur.
These schemes may include the following categories:
Investment Visa
It is typically known as the "Entrepreneur Visa", and is designed for individuals who plan to establish or join a business in the city.
To meet the eligibility requirements, applicants typically need to demonstrate the following:
The business venture is viable and will contribute to the economy of Hong Kong;
A detailed and well-structured business plan;
A substantial investment commitment into the business;
Active involvement in the management of the business;
A commitment to providing employment opportunities for local residents; and
A clean criminal record.
The Investment Visa is granted for one year, with the possibility of extensions based on the success and progress of the business.
Capital Investment Entrant Scheme (CIES)
The CIES is designed for individuals who want to make a significant investment in the region but do not need to immediately establish or join a specific business.
Here are some general eligibility criteria and details:
Investment requirement: Applicants are required to invest a specific amount of capital in qualifying assets within Hong Kong. These assets can include stocks, real estate, or other assets that meet the scheme's criteria.
Age requirement: Typically, applicants must be 18 years of age or older to qualify for the CIES.
Financial self-sufficiency: Applicants should demonstrate that they possess the financial means to support themselves and their dependents in Hong Kong without relying on public assistance.
A CIES visa is granted for an initial period of seven years, and its validity can be extended based on the applicant's continued compliance with the scheme's requirements.
Individuals who obtain Investment Visas in Hong Kong and establish or join businesses in the city can often apply for a Dependant Visa for their spouse and dependent children.
Other visa schemes
Training schemes
This category is intended for individuals who plan to visit Hong Kong for training purposes, with the goal of acquiring specialized skills and knowledge that are not readily available in their home country or territory. One common example of a visa falling into this category is the Training Visa.
This category is intended for individuals who plan to visit Hong Kong for training purposes, with the goal of acquiring specialized skills and knowledge that are not readily available in their home country or territory.
Foreign domestic helpers
This category pertains to foreign domestic helpers, often referred to as maids, who come to Hong Kong to work in private households.
The visa duration typically starts with an initial two-year contract, and it can be renewed for as long as the employment arrangement persists.
Visit scheme
This category is meant for individuals who plan to visit Hong Kong for tourism, business meetings, or short-term stays.
Typical visas in this category include the Visit/Transit Visa or the Working Holiday visa, which is available to nationals of specific countries.
The duration of stay permitted with a visitor visa generally varies from a few days to several months, depending on the nature and purpose of the visit.
How to apply for a Hong Kong visa?
Applying for a Hong Kong visa can be a detailed process, and the requirements may vary depending on the type of visa you're seeking and your individual circumstances.
Here are the general steps to apply for a Hong Kong visa:
Step 1: Determine the suitable visa schemes
You should identify the specific visa schemes that match your purpose for coming to Hong Kong, such as talent admission, investment, or training.
Make sure you meet the eligibility criteria for that visa category.
Step 2: Prepare the necessary documents
Gather all the required documents, which may include:
A completed visa application form (specific forms differ based on visa type);
A valid passport with at least one blank visa page;
Passport-size photographs;
Proof of financial sustenance (like bank statements);
A copy of your travel itinerary, return air ticket, and proof of hotel reservation (mainly for tourist visas); and
Additional documents specific to your visa type (e.g., an employment contract for a work visa, admission letter for a study visa, etc.).
Step 3: Submit the application
There are several convenient methods to apply for a Hong Kong visa:
In-person or by post: You can submit your visa application and all required documents to the Hong Kong Immigration Department either by visiting their office in person or sending the application via postal service.
Through a local sponsor: For certain visa types like training visas, you have the option of having a local sponsor, which could be your employer to submit the application on your behalf.
Via Consulate or Embassy: Applicants from certain countries may need to apply for their Hong Kong visa through a Chinese consulate or embassy in their home country.
Step 4: Pay the application fee
Pay the required visa application fee, which may vary depending on the type of visa and your nationality.
Payment methods typically include cash for direct submissions, as well as options to pay by check or credit card.
Step 5: Wait for processing
The duration of visa processing can range from a few days to several months, depending on the type of visa. The Immigration Department may ask for extra documentation or an interview during this time.
Step 6: Receive a visa approval notice
If your visa application is approved, you will receive a visa approval notice. This document should be submitted to the immigration authorities upon arrival in Hong Kong.
In some cases, you may receive a visa label affixed to a page in your passport or an entry permit that allows you to enter Hong Kong and stay for the specified duration.
How to check Hong Kong visa status?
If you've applied for a Hong Kong visa and want to know the status of your application, you can do so through official channels provided by the Hong Kong Immigration Department.
Here are the steps to check the status of your Hong Kong visa application:
Online
Go to the official website of the Hong Kong Immigration Department.
Look for the "Check Status of Application" section or a similar link.
Click on the link that corresponds to the type of visa or service you applied for (e.g., "Visit/Transit" or "Employment").
You'll typically need to provide specific details from your application, such as your application reference number and date of birth.
After providing the required information, the system will display the status of your application.
Other methods
You can also check your application status using methods other than the online portal:
By phone: Call (852) 2824 6111, follow voice prompts and enter your details.
In-person: Visit the Immigration Department in person and present your application documents for a status update.
Email inquiry: Send an email to the Immigration Department with your application information to request a status update.
Always make sure you have your application reference number at hand when checking the status, as this is a crucial piece of information to identify your application. If you engaged an agent or agency to handle your visa application, they should also be able to update you on its status.
How to extend a work visa in Hong Kong
If you're in Hong Kong and wish to extend your stay beyond the period granted on your initial visa, you typically need to apply for an extension with the Hong Kong Immigration Department.
The process and eligibility can vary based on your visa type and the reason for extension, but here's a general overview of how to go about it:
Step 1: Check eligibility
Ensure you're eligible for an extension based on your visa type and restrictions.
Step 2: Prepare and fill in the necessary documents
Fill out Form ID 91(Extension of Stay Application);
Present your passport;
Provide evidence of financial stability; and
Include any supporting documents relevant to your extension reason.
Step 3: Submit application
Apply in person at the Hong Kong Immigration Department at least four weeks before your visa expires.
Please note that your extension application may not be eligible if
You are not physically present in Hong Kong when applying for the extension.
You intend to get your visa extension label at an Immigration Branch Office.
You possess a visitor visa, in which case you must furnish reason and financial proof of your extension.
Your current stay is less than 4 weeks or has already expired.
Your passport has less than 3 months of validity at the time of extension application.
You plan to leave Hong Kong and will not return before your current permission to stay expires.
Your circumstances, like employment or educational enrollment, have changed since your last stay or extension.
Your upcoming visa extension is under review.
Specific conditions apply if you are under the IANG scheme without local employment.
Step 4: Pay the fee and attend the interview (if required)
Submit your extension application along with the required fee and participate in an interview if it's required for your visa category or extension circumstances.
Once a decision is made, you'll be notified. If you have dependents, ensure that you apply for their visa extensions concurrently to align the validity of your stay.
Upon approval, a new visa label will be affixed to your passport, indicating the duration of your extended permission to stay.
Note: Working visa extensions are typically valid for 3 years and can be renewed conveniently through your employer. Ensure your passport is valid before applying for renewal.
How to apply for Permanent Resident status
To apply for permanent residence status, you need to satisfy certain requirements and apply for a Permanent Identity card. The general process can be like this:
Check your eligibility
Fill out the form and prepare the supporting document for proof
Submit it to the Immigration Department
Wait for the result
Approval of the status and getting the ID
Note
Conclusion
In summary, acquiring a work visa for Hong Kong is a structured process that requires attention to detail and careful preparation. Being well-informed about the various visa categories and application procedures will help ensure a smoother experience.
With the right documentation and approach, you can successfully obtain the authorization needed to pursue your career aspirations in this vibrant city.
For more information relating to starting up a business in Hong Kong, feel free to contact us at service@bbcincorp.com.
Frequently Asked Questions
How can I check my Hong Kong visa status?
You can use the 24-hour telephone inquiry system, available at (852) 3160 8663, in addition to the online services provided.
Does Hong Kong permit dual citizenship?
No, Hong Kong does not allow dual citizenship. If you are a foreign national and acquire Hong Kong citizenship, you are generally required to renounce your original citizenship or nationality. Likewise, if you are a Hong Kong citizen and wish to acquire foreign citizenship, you may be required to renounce your Hong Kong citizenship.
Which countries can enter Hong Kong without a visa?
Citizens from approximately 170 countries can enter Hong Kong without a visa for periods ranging from 7 to 180 days, depending on their nationality, for tourism or certain business activities. You can check the details here.
What documents are required for a Hong Kong visit visa?
To apply for the visit visa, you will have to provide the following documents:
A valid travel document containing personal details and a visa (if required);
A recent photograph of the applicant;
Evidence of financial means, such as bank statements or tax receipts;
Proof of employment, including a leave letter and salary slips, if you are employed;
Details of your travel arrangements, including your flight itinerary;
Documentation proving the purpose of your visit to Hong Kong, such as a tour receipt, business invitation, or event confirmation;
Proof of onward travel (for transit purposes);.
Documentation demonstrating your relationship with a local sponsor, if you are visiting family;
Additional justification for visits that do not fall under leisure, business, or family categories; and
Any other supporting documents that may be required for your specific circumstances.
Disclaimer: While BBCIncorp strives to make the information on this website as timely and accurate as possible, the information itself is for reference purposes only. You should not substitute the information provided in this article for competent legal advice. Feel free to contact BBCIncorp's customer services for advice on your specific cases.
Share this article
Get helpful tips and info from our newsletter!
Stay in the know and be empowered with our strategic how-tos, resources, and guidelines.