Good day everybody, exactly to those interested in the keyword "OPEN OFFSHORE BANK ACCOUNT REMOTELY". This sharing is from my experience, and I hope it would be valuable for you.
Those around issues lead to the same question that a large number of my customers often asked me during this period of time.
Open an Offshore Business Account Remotely, specifically in financial centers like Hong Kong and Singapore during times like Covid-19 Period, is it possible?
From my angle, the crisis has posed a fierce hardship on almost all business firms, but in another perspective, business people may find "a hidden opportunity" for ease of opening their business account remotely.
I'm a relationship manager, and from my experience being worked closely with many clients who sought BBCIncorp Limited for help with opening business bank account, I realized that most clients usually considered in-person visit as an issue of headache.
The case is that some jurisdictions which are quite often thought to have not-so-friendly banking systems for start-ups or SMEs would even leave people no choice to register bank account online or remotely.
What happened amid the coronavirus outbreak was really changing the situation. Nearly all businesses were unable to pay an abroad visit in the quarantine period just to open a business bank account, which led to the delay of their business plan.
The hidden opportunity as above-stated is here to mention. Opening bank account remotely has become a trend while banks entrusted some of their long-term introducers with this capability.
What We Offer
As one of banks' most essential partners, BBCIncorp is proud of being able to assist our clients with online account opening at the most reputable banks, which offer high-quality facilities such as 24/7 Internet banking, Debit Card, Cheque, Digital token, Online worldwide telegraphic transfer, Online Payroll, and so much more.
Despite the tough time, I've been assisting my clients to get their business account successfully activated within 2-3 weeks without any travel expense.
The account opening is completely done online via email and a conference call with our assistance during the process.
It is worth mentioning for you that the key of the successful and fast opening in most of my cases is well-oriented business plan provided along with trustful supportive documents.
To give you an example, I was supporting my client to open a bank account to trade electrical equipment in Hong Kong. I supposed it would take more than 3 weeks as the bank's workload was huge during and after the national lockdown.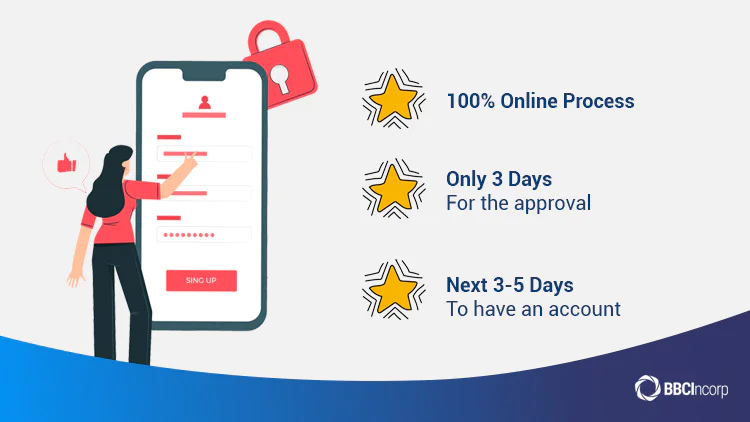 Surprisingly, it took only 3 days for the preapproval thanks to subsequent and efficient business proof submission. The application is now on-boarding and the account will be ready in the next 3-5 days.
Another case is from a consultancy business. Many banks may prefer only trading companies in Asia, but this does not mean that there is no chance for consultancy firms.
One of my clients formed a BVI company for consulting services of green power technology. Then, he already had his company's bank account in Singapore to broaden his business to Asian countries, specifically to Singapore.
I was working on this case when the crisis was at its climax. Our effort, not only mine, proved to avail as the account was ready within 20 days in March. You know what? This owner was willing to provide well-prepared materials to prove his past experience in the same field, as well as the prospect customers.
Well, after all, the answer for "Open bank account remotely during times like Covid-19 Period, is it possible?" is absolutely YES! You should take advantage of the chance.
And the chance is to open your bank account remotely to serve your business internationally against the difficulties caused by the pandemic, then develop it afterwards!
Feel free to chat with me if you want to get more advice on How to open a bank account in Hong Kong, Belize, BVI, and many more countries remotely. My experience and our dedicated support team will definitely be helpful for you!