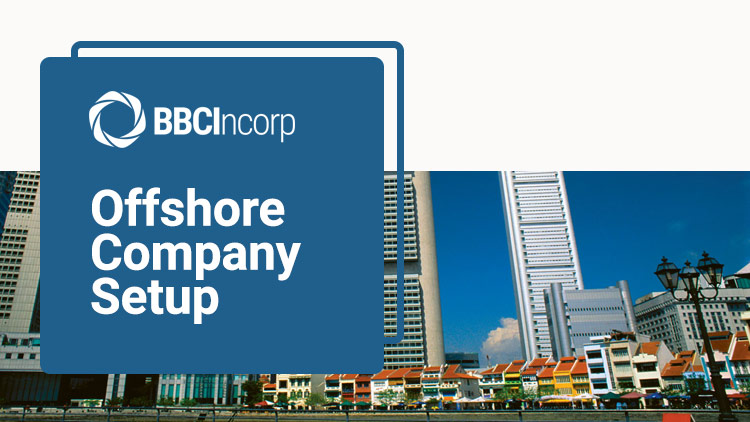 How To Set Up An Offshore Company For 2021 is a detailed roadmap that supports every start-up or new offshore player to save their time and resources. Please read below!
The term "offshore company" seems too familiar, but actually, the topics associated with the offshore company often remains at the top level of attention.
Thanks to many benefits, namely tax optimization, asset protection, or privacy, a large number of business players have been increasingly flocking to offshore jurisdictions. Some common names that gain in popularity include the British Virgin Islands (BVI), Belize, Hong Kong and many more.
Some may feel easy to incorporate their offshore company. Some, on the other hand, have given feedbacks on the procedural requirements as well as the complicated process that they must deal with. Through many cases, what BBCIncorp realized is that the clients did not gain sufficient knowledge for the particular incorporation of offshore companies. In this blog, we will drive every start-up or new offshore player to everything they need for setting up an offshore company.
1. Don't miss 3 must-do steps in the preparation stage
Good preparation always makes good results! Below are 3 important steps to prepare for incorporating your offshore company: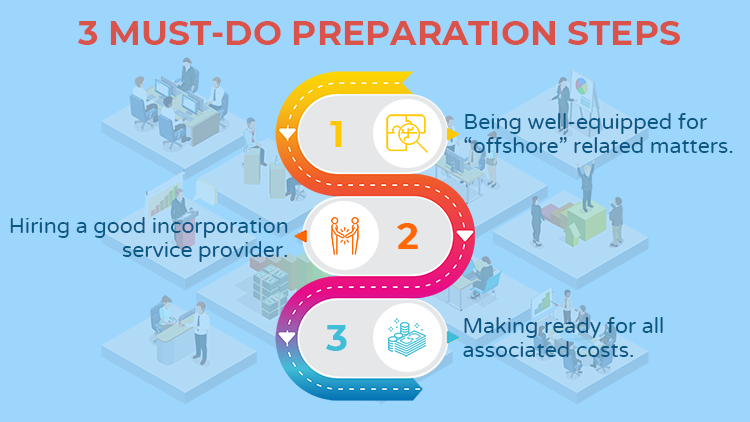 You should understand based knowledge about an offshore company and its relevant issues so that you can minimize the potential of any wrong move. It would really help if you can answer such questions like "how do offshore companies work?", or "which offshore jurisdictions should you first put in your consideration list in respect of your business demand?".
Hiring a good offshore service provider is one hassle-free and effective solution for most start-ups and new business players. This service firm will collect required documents and paperwork, then register and incorporate your offshore company. This firm is also able to facilitate the management of administrative tasks for you after the incorporation. Examples of post-incorporation duties include making renewals, filing financial reports, annual tax returns, and so forth.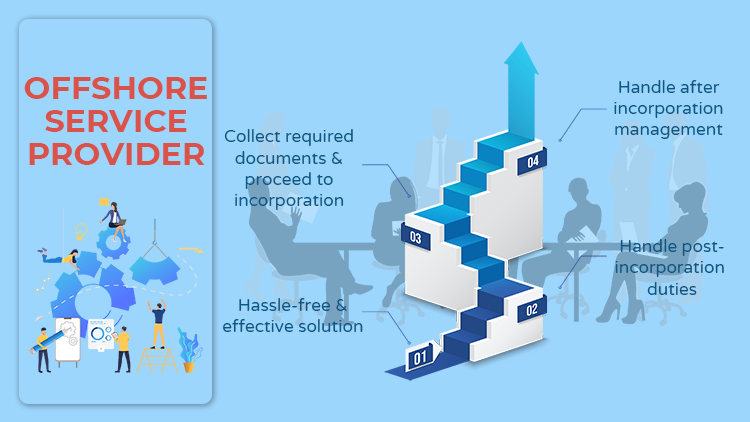 Please keep in mind, not all offshore service providers can be your ideal partner. There are some parameters that should be taken into account, prominent among which include:
The experience/business history of the firm
The physical location of the firm
The number of jurisdictions that the firm may cover (if you choose universal providers)
The cost of the firm's services
The customer service of the firm
Especially, the reputation of the firm
Last but not least, in your very first stage, you should be well prepared for associated payments. Once you have selected your ideal partner for offshore company formation, you actually know how much you need to pay for your basic incorporation. Typical payments are fees for certificate of incorporation, the register of directors, or document filing. Having said that, there can be other additional fees that you should plan in advance. Such extra payments can arise from some following activities:
Bank account opening
Corporate seals registering
Corporate offices renting
Together with a couple of possible needed services like apostille, virtual office, etc.
2. Company structure: IBC, LLC, Pte Ltd – Which to choose?
The next stage is to consider a suitable offshore company structure!
Offshore company is a very broad term. Depending on the jurisdiction you have selected, the flexibility of the business structure you expect, and some other factors, the offshore service provider can suggest the best-suited type to make the most of your benefits.
Normally, there are 3 offshore company structures widely chosen by business players moving offshore. They are:
Main features of International Business Company/Business Company (IBC/BC)
Allow the engagement in international business activities like trade or investment
Enjoy a very low tax rate (or be exempt from local corporate tax), if the IBC does not conduct business within the jurisdiction of incorporation
Offer fast incorporation
Offer banking and corporation privacy
Offer minimal reporting requirements
Require at least 1 director and 1 shareholder (both can be the same person)
Recommended offshore jurisdictions: Belize, BVI, Seychelles, Marshall Islands, UAE
Here is an example to let you explore more about this type: Seychelles International Business Company (IBC): A Go-to Guide
Main features of Limited Liability Company (LLC)
Be a hybrid of the corporation and the partnership
Be exempt from local corporate tax on assets or income-generating outside of the jurisdiction of incorporation
Offer strong protection for the company members. Members are not personally liable for debts or liabilities of the business
Only have members in place of shareholders and directors
Offer minimal reporting requirements
Require at least 1 member
Recommended offshore jurisdictions: Belize, Cook Islands, Nevis, St. Vincent & Grenadine
Belize Limited Liability Company is a typical case. Check it out!
Main features of Private Limited Company (Pte Ltd)
Be a type of privately held business entity with the number of shareholders not exceeding 50
Offer limited liability to shareholders
Can enter into contracts, acquire assets, sue or be sued under its own name
Enjoy low tax rates/tax exemption from income earned from outside
Restrict shareholders from publicly trading shares
Subject to more reporting requirements than that of IBCs
Recommended offshore jurisdictions: Hong Kong, Singapore
Want to gain insights into Hong Kong Pte Ltd? This blog gets you covered: All you should know about Private Company in Hong Kong
3. Decide on an appropriate offshore jurisdiction
The offshore location is of an important impact on either advantages or challenges of your incorporated company in that place. There are a range of parameters that should be taken into considerations when making a decision.
Most importantly, offshore company jurisdiction should be an excellently tailored option that can meet your business needs. For example, if entrepreneurs are seeking for a reputed location with highly pro-business for foreigners to incorporate, they have tendency to think of Singapore or Hong Kong as first ideas.
The reputation can also reflect the offshore jurisdiction's soundness and stability, which can result in the feeling of trustworthiness, and the potential of your business growth. It is advisable to look at its health of economy, politics, legal framework, and even corporate structures availability to know which country suits your business.
If you are a big fan of EU markets, when drafting your consideration list, find out whether your intended place to incorporate is in the non-cooperative list by EU Council or not. This element is greatly significant in case your company has a plan of trading or expanding to the EU playground in the near future.

Don't feel surprised if knowing that your country of residency may be the reason for your failure of setting up an offshore company. Some countries can be named in the list of being ineligible for company formation. Hence, where you are living is an important factor to take into account as well.
The ability to support business for tax minimization is another factor to consider. Most offshore company jurisdictions offer a favorable low tax or even free tax for foreign-sourced earnings, reducing the tax burden they must suffer in high-tax countries. Note, however, that understanding the taxation rules is relatively crucial due to the fact that each jurisdiction may impose different tax systems on your offshore business.
You got in mind some names, but don't know which jurisdiction is better? Offshore Company Comparison Tool can be what you need. Try it now!
4. How to set up an offshore company: Incorporation Procedure
The incorporation process for an offshore company can be enfolded in steps as the followings:
4.1. Select a company name
There are certain naming requirements for your company name to get approval from the competent authority which is commonly known as the Company Registry.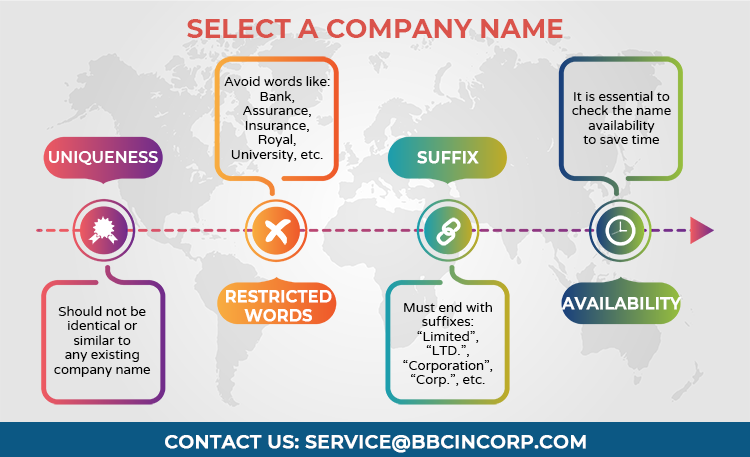 In particular, an eligible company name for offshore companies should meet basic criteria as below:
The name should be unique and not be identical or similar to any existing or already registered company name at the Company Registry;
The name should avoid the name in which prohibited and restricted words are included. Such words can be Bank, Assurance, Insurance, Royal, University, Trust, Building Society, Cooperative, Foundation, Casino, Fund, Securities, Pharmacy, et cetera;
Note that an LLC company name must typically end with suffixes namely "Limited", "LTD.", "Corporation", "Corp.", "Incorporated", "Inc.", "LLC", "Société Anonyme", "S.A.", "Gmb", "Namloze Vennootschap", "Berhad", etc, depending on the corporate laws of the chosen offshore jurisdictions;
The company name search/ Checking the name availability is always essential to save your time and avoid unnecessary mistakes.
Wonder if your proposed offshore company name is available? This is BBCIncorp's Name Check Tool where can help you to check on our 19 global serviced countries!
4.2. Fulfill KYC requirements
To curb illegitimate uses of offshore banking services, most banks need to carry out due diligence before accepting new clients.
Please be advised that documents required to submit for your offshore company formation may be varied from jurisdiction to jurisdiction. However, in most cases, the basic documents for the customer verification that would be expected to submit are as the followings:
Basic documents for due diligence obligations:
A certified copy of your identification documents like passport
An original or certified copy of documents for your residential address verification
A detailed description of your company's business activities
If your offshore company has one of its shareholders being a corporate body, then you must submit additional documents:
Certified copy of Incorporate Certificate or equivalent
Certified copy of Memorandum of Association
Certified copy of Registers of Directors and Members
4.3. Deliver documents to the Company Registry
Once you have done all the needed documents, please send them to the Company Registry of the offshore location that you opted for and proceed to register your company!
5. Let BBCIncorp be your ideal partner!
We hope you find this article a useful roadmap for your offshore company formation!
How to set up an offshore company is relatively straightforward and not complicated if you are fully aware of what you should prepare before to move, and what to do during the incorporation process. And hiring an offshore service firm is a wise solution to your time and resources!
BBCIncorp will typically do everything for you instead of the fact you will do such step by step by yourself. What you need to do is to chat with our consultant to acknowledge your case, collect the required documents listed above, and send us via emails. We then deliver your documents to the compliance department and the Company Registry of the offshore location you have chosen for registration.
The online offshore company formation services can bring you the best of its convenience thanks to the fact that you can get your offshore company incorporated quickly within several business working days. Why don't you talk to us about your desired offshore company!