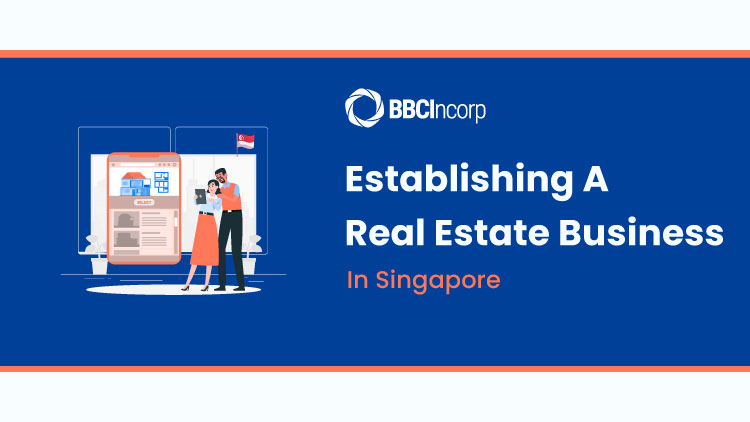 Within the prosperous landscape of Singapore's property market, aspiring real estate agencies are met with a wealth of exciting opportunities. If you aim to open a real estate business in Singapore, you've chosen a promising path.
To help you with the incorporation process, we have crafted a detailed guide on the topic through this article. Read on to learn more, from structuring your business to obtaining real estate licenses, and pursuing success in this industry.
The real estate business environment in Singapore
The real estate industry in Singapore has become a critical sector that holds immense potential for growth and development.
This is due to the unique challenges posed by the country's dense population and geographical constraints. As space becomes increasingly scarce, the demand for housing and commercial properties continues to rise, creating a thriving market for investors and developers alike.
Specifically, the current valuation of the Singapore real estate market stands at around USD 43.71 billion, but the future holds even greater promise. Experts project that it will surge to USD 60.09 billion by 2028, fueled by a compound annual growth rate (CAGR) of 6.57%.
Affordable housing projects and the growing demand for logistics and industrial real estate play a pivotal role as contributing factors in the market's dynamics.
These factors, along with positive profitability sentiment, make Singapore an attractive destination for real estate investment. Therefore, ambitious investors looking to establish a presence in the real estate or property agency sector are always eyeing Singapore for their venture.
The process to open a Singapore real estate business
Setting up a real estate business involves fulfilling specific requirements through a systematic process. Below is a general outline of the procedures you need to go through:
Step 1: Decide on the company name, structure, and other particulars
The initial steps in establishing your Singapore real estate business include determining a compelling name and the most suitable business model.
Company name
Your company name plays a vital role in shaping your entrepreneurial journey, so make sure that the name aligns with your vision and meets legal regulations set by the Accounting and Corporate Regulatory Authority (ACRA).
To avoid incompliance risks, you should perform a comprehensive company name check in advance. Once the name availability is confirmed, you shall submit a name reservation application through the Bizfile+ platform and secure the chosen name for business registration.
Business structure
Choosing a legal structure for your real estate business is equally essential. To be eligible for your property business registration with the authority, your options are either a private limited company, a partnership, or a sole proprietorship.
Other company particulars
Additionally, to establish a solid base for operation, your business must prepare the following key elements:
A registered physical address in Singapore
At least one local resident director appointed
A minimum amount of SGD 1 in paid-up capital.
At least one corporate secretary within six months of incorporation
A comprehensive Memorandum and Articles of Association (M&AA) outlining your company's objectives, rules, and governance structure.
In need of a reliable company incorporation service provider in Singapore? Look no further! We offer an efficient and smooth incorporation process for your business.
Step 2: Register your business with the ACRA
After finalizing your company name and other particulars, the next step is to officially register your real estate business.
This process entails submitting necessary paperwork along with the payment of applicable fees to the ACRA. The required documents may encompass:
The company's constitution and the M&AA
Personal details on directors and shareholders
The company's name and registered address
The share capital
And more.
If everything is in order, ACRA will issue a certificate of incorporation, officially recognizing your real estate business as a registered entity.
Step 3: Appoint a Key Executive Officer
To qualify for a real estate license in Singapore from the Council for Estate Agencies (CEA), you must appoint a Key Executive Officer (KEO), who is responsible for managing the agency's activities, maintaining professional standards, and upholding ethical practices.
What are several criteria KEO candidates must meet to be considered for the position? Particularly, they must fulfill these requirements:
Qualifications
Pass the Common Examination for House Agents (CEHA), the Real Estate Agency (REA) exam, or possess an equivalent qualification;
Obtain at least four GCE 'O' Level passes or equivalent qualifications.
Experience
Have at least 3-year experience working with a Singapore-licensed estate agent;
Have conducted at least 30 property transactions within the last three years (either independently or on behalf of a qualified estate agent).
CEA fit & proper criteria
Have no legal conflicts, including undischarged bankruptcy, or convictions in any country;
Have no past detentions, or supervision orders under the Misuse of Drugs Act or the Criminal Law Act;
Make compulsory MediSave contributions with the Central Provident Fund (CPF) Board.
Employment status
Hold the role of a sole proprietor, director, or partner of your estate agency;
Not hold a moneylender's license or have any association with a licensed moneylender.
Most importantly, the KEO must not, currently or previously, be a sole proprietor, KEO, director, or partner of another estate agent, regardless of whether the license was revoked or not.
Step 4: Apply for the real estate license
Now that your Key Executive Officer (KEO) has been appointed, it's time to work on your license application. In order to obtain your real estate, or property license in Singapore, you must provide these vital documents to the Council of Estate Agencies (CEA):
A copy of the company's business profile (can be obtained from the ACRA for a nominal fee);
A copy of your Professional Indemnity Insurance, which should be valid for at least one year from the date of application;
The legal name and business registration number of your real estate agency;
The relevant personal details of your KEO, directors, sole proprietors, and partners;
Details regarding the 30 sale or lease transactions concluded in the last three years.
The KEO will then be responsible for submitting the necessary paperwork to the CEA. Once approved, an email notification will be sent to confirm the successful application. The processing time is typically within a range of 4 to 6 weeks.
Keep in mind that the CEA does not provide a physical copy of the license. Instead, you can access and download a soft copy of the license on their website. This digital property license can be printed for reference and official use.
Step 5: Start employing real estate agents and run your business
Once you have obtained the essential licenses and permits, the next crucial step is assembling a team of reliable real estate agents.
These individuals will play a vital role in executing effective strategies and forging strong connections with clients as well as industry partners. To work legally, they must be eligible for the real estate agent license by fulfilling CEA's criteria.
Upon creating a competent team of experts, it is time to embark on your exciting journey as a licensed real estate business in Singapore.
Mandatory fees for real estate businesses
When running a property business, must entrepreneurs pay any maintenance fees? The following are some common expenses you may encounter.
License fees for employed real estate agents
All agents must register with the CEA and pay an annual fee of SGD 230 (GST exempt). The agent's registration will typically be granted for a full calendar year, or part of a calendar year starting on or before 30 June and ending on 31 December.
There is also an application fee of around SGD 53.5 (GST included) for registering a new agent or renewing the agent's license.
License fees for businesses
Your estate business is generally required to pay license fees as part of the regulatory framework governing its operations. These expenses may include registration costs, renewal fees, and additional fees for specific permits or endorsements.
New license registration/ license renewal fee
A new license or renewal of an existing license for a Singapore real estate company would require the payment of SGD 107 (inclusive of GST).
Annual license fee
An annual fee must be paid to the CEA for maintaining the license and continuing the agency's operations. The amount may vary depending on the number of agents and your company structure. Thus, your enterprise will fall into one of two separate categories below:
As a General Partnership or a Limited Partnership
There will be an additional annual charge of SGD 230 per practising partner over what other businesses with the same number of agents would have to pay. Particularly:
1 to 10 agents: SGD 330 plus 230 per practicising partner
11 to 30 agents: SGD 660 plus 230 per practicising partner
31 to 50 agents: SGD 1,100 plus 230 per practicising partner
51 to 500 agents: SGD 2,200 plus 230 per practicising partner
And so forth.
Example for partnerships
If your agency is a general partnership with 3 partners (2 of which are practicising partners), and 10 agents, here are the expenses:
Annual license fees of the business: SGD 790 (330 + 230*2)
Annual registration fee: SGD 2,300 (230*10)
The total amount will be SGD 3,090.
As other businesses
Your annual license fee will range from SGD 330 (GST exempt.) to a few thousand Singapore dollars, based on the number of real estate agents hired. To exemplify, if you employ:
1 to 10 agents: SGD 330
11 to 30 agents: SGD 660
31 to 50 agents: SGD 1,100
51 to 500 agents: SGD 2,200
And so forth.
Example for other business types
If your agency is a private limited company with 50 agents, the obligatory fees include:
Annual license fees of the business: SGD 1,100
Annual registration fee: SGD 11,500 (230*50)
The total amount will be SGD 12,600.
Please note that it is your company's responsibility to cover the costs of the business license fee, registration fees for agents, as well as any fees related to the license application and registration processes.
You can refer to the detailed amount as regulated by the government here.
Conclusion
In conclusion, the path to establishing a real estate business in Singapore may appear intricate, but it holds tremendous opportunities for passionate entrepreneurs. Through our comprehensive guide, you can already gain helpful insights into the incorporation process.
For any further inquiries on setting up a company, or doing business in Singapore in general, don't hesitate to contact us via service@bbcincorp.com. We are happy to provide timely assistance.
Frequently Asked Questions
Are real estate agents similar to real estate agents in Singapore?
In Singapore, real estate businesses and real estate agents are not the same entities, although they are closely related.
A real estate business, or agency, refers to a company or organization that engages in various activities related to the real estate industry.
Meanwhile, real estate agents are individuals who work within the real estate industry. They act as intermediaries between buyers and sellers, or other parties involved in the transactions.
What is the role of real estate agents?
The real estate agent will represent buyers or sellers (and occasionally both) in transactions. As trusted advocates, they diligently pursue favorable terms, negotiate contracts, and manage the documentation involved to facilitate an efficient process for your clients.
In most cases, the agent would specialize in either commercial or residential real estate.
What are the criteria to become licensed real estate agents?
To become a licensed real estate agent, there are several important requirements an individual must meet. For example, you have to:
Be at least 21 years old;
Be a Singapore resident, a Permanent Resident, or a valid work pass holder;
Have a minimum of 4 GCE 'O' Level passes or the equivalent
Pass the Real Estate Salesperson (RES) exam administrated by the CEA;
Meet CEA fit & proper criteria (e.g. no bankruptcy records, convictions for fraud or dishonesty, serving detention or police supervision orders);
Participate in continuing professional development of at least six hours per year;
Have no default on Medisave contributions with the Central Provident Fund Board;
Must not be involved in moneylending activities;
Must not hold positions as salespersons or Key Executive Officers in other agencies;
Maintain valid Professional Indemnity Insurance for at least one year from the registration date.
So forth.
The aforementioned initial requirements are set forth to ensure the integrity, competence, and ethical standards of a real estate agent.
Does an estate agency have to notify the CEA of changes?
Your agency or the Key Executive Officer (KEO) shall notify CEA of any change to the information contained in any application or form submitted within 7 working days.
The following changes can be updated through CEA's e-services:
Changes in the company's information (e.g. business address)
Changes in the KEO Information
Changes in existing practising Directors/Partners Information.
Cancellation of a RES registration.
So forth.
Disclaimer: While BBCIncorp strives to make the information on this website as timely and accurate as possible, the information itself is for reference purposes only. You should not substitute the information provided in this article for competent legal advice. Feel free to contact BBCIncorp's customer services for advice on your specific cases.
Share this article
Get helpful tips and info from our newsletter!
Stay in the know and be empowered with our strategic how-tos, resources, and guidelines.