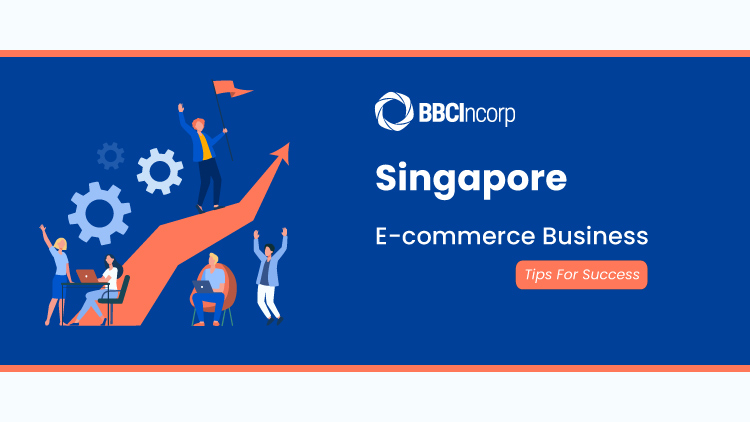 E-commerce industry has been on the rise in recent years, with more and more businesses turning to online sales in order to reach a wider audience. And the Lion City is in the spotlight for professional players of e-commerce business venture.
If you're considering starting an e-commerce business in Singapore, there are a few things you'll need to take into account. What we'll share in this article includes some tips on how to successfully start your Singapore e-commerce company.
Tip #1 – Understanding the requirement and procedure for Singapore company setup
For e-commerce startups in Singapore, there are a few key things to keep in mind in order to set up your business.
After you determine the proper business structure (highly recommend foreigners to register a private limited company in Singapore), decide on an eligible company name and work with a professional incorporation service provider in Singapore to legalize your company. An efficient incorporation service firm may also get your Singapore company open in just one day.
The next step is to submit to ACRA – Accounting and Corporate Regulatory Authority – your application, required docs, and the registration fee, and you'll complete the process easily.
What also makes Singapore an ideal city for foreigners is that the business registration process is fairly straightforward and can be done online; however, ensure that you have in order all the required docs. Below are basic documents needed for Singapore company incorporation you should bear in mind:
Certified true copy of passports of all company members
Certified true copy of address proofs of all company members
Business details such as services, sectors, and major operating countries
Get in touch with our friendly consultant and ask for a detailed Singapore Incorporation Checklist to know all the docs you must prepare (No fee and spam free)
Another thing to note down –  to kick start your e-commerce business in the city-state will require payments from customers, you need to open a corporate bank account. And each bank in Singapore might get you involved in different KYC procedure, that's why you should keep in mind to consult well before falling into a bank account opening.
In our previous article, we tell many people like you about a comprehensive guide on how to start their business in Singapore for e-commerce, come back to it in case you need it.
Tip #2 – Picking a good e-commerce platform and right target market
In order to run your e-commerce business smoothly, you'll need a powerful and user-friendly e-commerce platform. You will need to choose the right e-commerce platform for your website. There are a number of e-commerce platforms available, and each has its own strengths and weaknesses. You'll need to evaluate your specific needs in order to choose best one.
Shopify is a popular option for businesses of all sizes, an easy-to-set-up option as well. Others go for establishing their own shop combined with having a great promotion strategy on various marketplaces – namely Amazon, Lazada.
Tip #3 – Choosing a right payment gateway
When customers have increasingly fallen into the habit of online shopping, that is when a large number of online business owners sometimes climb the walls with problems of using various types of payment processors. Imagine you are an owner that might have thousands of dollars flow through their business accounts each day, how will you effectively handle each?
Good news, the emergence of payment gateways has enabled them to cut down their workload, as those allowed e-commerce businesses to handle multiple types of payments at once.
And that's why choosing the right payment gateway in order to accept payments online is of vital importance to your e-commerce business in Singapore. On top of popular options, Paypal is the one that has won a lot of choices for e-commerce businesses, as it's easily integrated with most platforms.
Below are some factors to find the best fit of payment gateway for your startups:
Fees associated with the payment gateway. Some gateways have higher transaction fees than others, your company's business model, types of accepted payment, your montly/annual income from transactions will be things worth to consider.
Security of the payment gateway. Make sure that the gateway you choose has a good reputation for security and that your customers' information will be safe.
Customer service support of the payment gateway provider offers. Choose a provider that is easy to reach and that can help you with any problems you may have.
Whether the gateway is compatible with the e-commerce platform you are using
Tip #4 – Shipping and fulfillment
Businesses in Singapore to consumer e-commerce market costs US$5.8 billion, according to JPMorgan report. Dealing with a high demand market will require an escalating growth in terms of shipping and fulfillment solutions for e-commerce businesses in the city-state.
If you're selling physical products, you'll need to set up shipping and fulfillment. This can be done through a third-party service like Fulfillment by Amazon, or local providers such as Asendia and ShipBob.
Third-party shipping and fulfillment services can be a great option for e-commerce businesses, as they can take care of the logistics of shipping and handling. This can free up your time to focus on other aspects of your business.
When choosing a shipping and fulfillment service, it's important to consider the cost, the speed of delivery, and the level of customer service.
Tip #5 – Check useful e-commerce resources for startups in Singapore
There are a few e-commerce resources that are useful for startups in Singapore.
Singapore Chamber of E-Commerce

(SCEC) is an open community organization that supports and promotes e-commerce businesses in Singapore. 

Singapore Infocomm Media Development Authority

(IMDA) offers e-commerce initiative programs, research, innovation updates within Singapore.

Singapore Economic Development Board

(EDB)

offers support and resources, region insights for investors doing business in Singapore.
Singapore's government has supported the e-commerce businesses. In what ways? Let's look at this.
New guide
Start reading to grow your Singapore E-commerce with minimal effort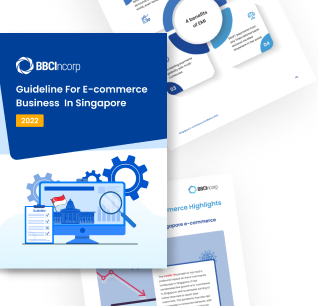 Conclusion
E-commerce is a growing industry in Singapore, and there is plenty of opportunity for businesses to succeed. However, it's important to consider the competition and other factors before building your e-commerce business in Singapore. Hope these tips will help you launch a successful e-commerce company in Singapore.
Think of having a good corporate service provider to give you efficient incorporation and management service in a completely digital way, and good consultants to give you practical advice. Feel free to contact us for any question you may have!
Disclaimer: While BBCIncorp strives to make the information on this website as timely and accurate as possible, the information itself is for reference purposes only. You should not substitute the information provided in this article for competent legal advice. Feel free to contact BBCIncorp's customer services for advice on your specific cases.
Share this article
Get helpful tips and info from our newsletter!
Stay in the know and be empowered with our strategic how-tos, resources, and guidelines.