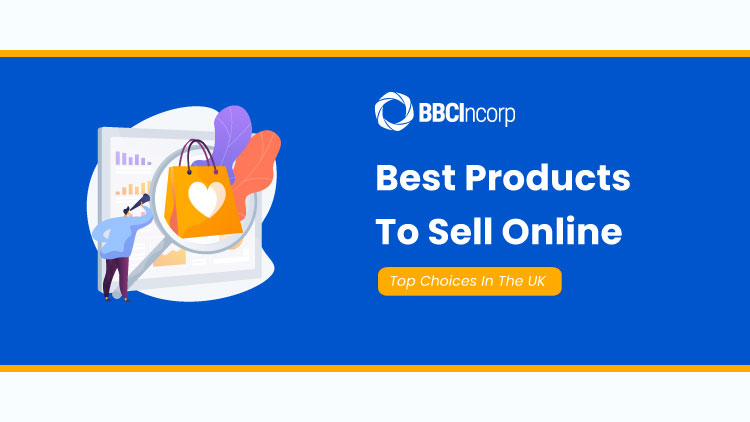 Let's jump right into some of the most sought-after product categories for the UK's online market!
Why should I start selling goods online?
Due to the shift in consumer behaviors ever since the COVID-19 pandemic hits, e-Commerce is currently developing at a mind-boggling rate where opportunities present themselves to those that are the quickest to respond to the latest retail trends.
Online goods selling allows both sellers and buyers to find each other more easily and offer flexibility to the ways people shop. Your customer can also place their order any time of the day from anywhere without the restriction of a physical store that only opens at certain hours. Plus, e-Commerce enables your business to reach a wider audience with smart and high-tech marketing tools.
What makes a strong online presence for your store?
Setting up an online store starts with choosing the best product to sell as well as devising a comprehensive business plan to promote your online presence.
Your plan should be able to reflect the vision and goals that you have laid out while coming up with the initial business ideas. This plan should also comprise a roadmap and timeline as to how and when these ideas will be executed.
Creating a captivating brand image lies within your business's ability to establish a consistent and resonating tone through these factors:
Brand label/name
Your brand name choice will depend on the aspiring tone that you wish the business to carry. The name should also align with the nature of the product in order to create a unified front for your business.
Brainstorming for a brand label is a rewarding endeavor since you can explore both universal and personal factors to sort out the name that is the most catchy and unique to your brand.
Once you have chosen a name, you can proceed with the registration of such a name. Getting trademarked will increase your company's credentials towards the consumers.
Website design
The brand's website is easily the first thing that your customers will see, so make sure it's neatly structured for easy navigation and smooth experiences.
After having a clear layout and a working shopping procedure, you can now think about adding adorned elements to make the site more attractive and engaging.
Your brand impression will also be influenced by the visual component of the website, much like your company name. Plus, additional customer service functions, such as a chatbot are also recommended to solve customers' common inquiries on the spot.
Marketing campaigns
You can not expect your product to reach the right target audience without implementing timely and high-impact marketing campaigns. These programs should be tailored to your audience persona and executed on an omnichannel scale to ensure consistency.
Always remember to communicate all of your activities including sales, promotions, social media fan page launches, websites, email, or local newspapers to make sure that you reach the largest volume of the target audience.
Shipping and fulfillment
Lastly, choosing a reliable courier service for the delivery of your products is an incredibly important final step. For businesses in the UK, there are multiple nationwide and international e-Commerce fulfillment services such as Parcelforce, DHL, or Yodel.
In order to assess shipping expenses and ensure that your products arrive on schedule to your customers, you will need a detailed plan in place. If you offer free delivery, that's great, but keep in mind that you'll have to pay for it, so you might as well include it in the price of your product. Real-time shipping rates from the shipping business can also be used to avoid under or overcharging customers.
Types of products you can sell online
Commodities
Commodities are the things that everyone needs and are frequently purchased in large quantities. Technology, fashion, culinary items, office supplies, cosmetic products, and more are all examples of what you'll find in this category. Commodities have the advantage of being well-known to consumers.
In addition, there is no need to educate the customers about the product's benefits and characteristics. Because there is already a steady market for it, it is not subject to the whims of fashion or hype.
However, commoditized items are difficult to sell because of competition and the many options available to clients.
Niche products
A niche product is one that caters to a specific segment of a larger industry or market. Niche products tend to be more expensive due to the fact that they are touted as being rare and exquisite.
Customers in the niche market are those who have a specific need or desire for the product. Examples of niches include homemade things, pet food or pet owners, trendy t-shirts, eco-friendly products, beauty products, gadgets, and other trending products. You can discover untapped markets by limiting your focus on a certain segment of the market.
To succeed, you need to find these niches. You don't have to go up against the big boys, and you can identify and benefit from places that others have ignored. To succeed, you need to find these niches.
Best products to sell online for UK e-Commerce business
Innovative appliances or gadgets
In the UK, innovative technology and high-quality products are a big draw. New phone and laptop peripherals (e.g. smartphone straps, new mouse pads, and wireless headphones and chargers), UV light disinfection boxes and virtual reality (VR) headsets are examples of such devices.
Vinyl LPs & CDs
Vinyl LPs can be sold at any time of year, but the holiday season is a great time to take advantage of the seasonal bargains on vinyl. On the internet, you can buy and sell rare vintage vinyl or recently released music.
Organic and healthy ready-made food
Studies by Deloitte  show that British consumers are most inclined to purchase organic and healthful products. Organic infant food, fruits, veggies, and organic protein powder are just a few examples of these items. If a popular product is not yet available in an organic form, it is highly profitable to begin selling it.
Organic tea and coffee
The British interest in organic products doesn't just stop at food, instead, organic tea and coffee also draw significant interest from health-conscious buyers in the country. Some examples of these products include teas such as detoxing herbal teas, matcha, and ground teas such as organic coffee.
Home appliances
Home appliances are another area of goods that sell well in the UK. The most popular household appliances in the United Kingdom will include high-tech robot vacuum cleaners, air fryers, and storage solutions for the bathroom, kitchen, and garage.
Used books
In the UK, selling books is a simple and lucrative side hustle. To find free books, you just have to do a little searching (often disposed of by libraries, landlords, or schools). You can make money by selling new and used books as well as school supplies and curriculum. In particular, selling limited and historic editions is the most successful strategy. Many of them can be purchased cheaply online and resold for profit.
Antiques and vintage items
Many people in the United Kingdom have a passion for collecting old goods. Selling such objects is quite profitable. For example, you may buy them cheaply on eBay or at flea markets and sell them at a profit.
Popular goods of this category include old coins and banknotes, vinyl recordings, old toys, tea and dining sets, ancient furniture, clocks, sculptures and paintings, old games and gadgets, as well as old crockery, old garments, and any old collectibles.
How to start your online business in the UK?
Starting a business online can be an intimidating decision for merchants who are new to the landscape. However, sorting out a few things in advance can help you get rid of the jitter and move forward.
You have to first figure out the item that you want to sell and analyze its potential market. Whether your product is commoditized or niche, you have to carefully examine your target audience, their current buying capacity as well as recent trends to see if such a product is worth considering.
Next, you will have to set up a brand with a clear identity and values that will carry and promote your product. After this step, you would want to find a selling platform or partner to collaborate with in order to bring your brand's channel to life.
This e-Commerce platform needs to satisfy all of your needs in terms of design, functionalities, services, and built-in tools. Once you have everything up and running, this is the time when you should prepare for the launch and marketing campaigns that follow.
Having difficulty deciding the best products for your e-Commerce venture? Drop us a message now via service@bbcincorp.com and see what we can do for your case.
Disclaimer: While BBCIncorp strives to make the information on this website as timely and accurate as possible, the information itself is for reference purposes only. You should not substitute the information provided in this article for competent legal advice. Feel free to contact BBCIncorp's customer services for advice on your specific cases.
Share this article
Get helpful tips and info from our newsletter!
Stay in the know and be empowered with our strategic how-tos, resources, and guidelines.