Foreign companies in desire of setting up their presence in another jurisdiction tend to opt for among three popular business structures, namely Branch Office, Representative Office and Subsidiary.
This blog will help you clarify striking differences of these types in terms of their liabilities, incorporation requirements, tax implication and compliance requirements.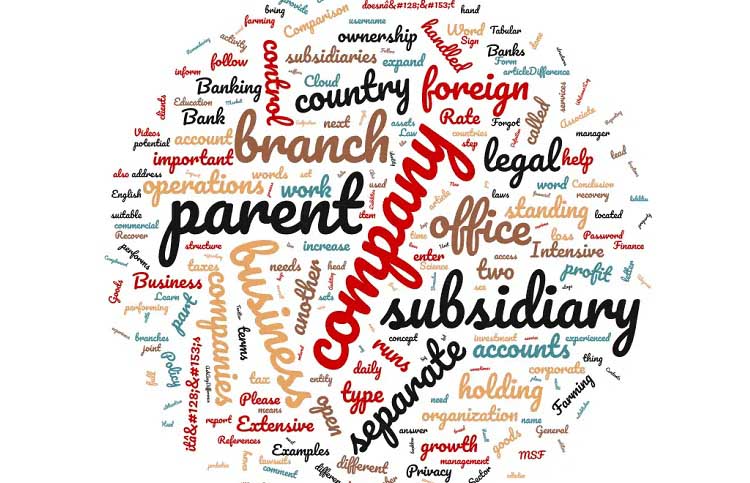 1. Making comparison: Branch vs Subsidiary vs Representative office
Below are the main differences amongst the three widely-used registration options for foreign companies:
1.1. Liability in relation to its parent company
One striking difference amongst a branch office, a representative office and a subsidiary lies in the liability of each type.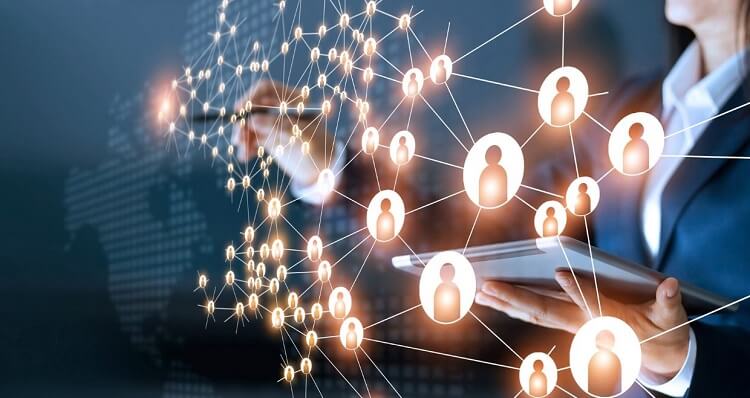 A representative office is not treated as a legal entity since it is actually the office of its foreign parent company to be set up temporarily for administrative tasks in another jurisdiction. In most cases, due to the fact that it has no legal standing, a representative office does not bear any liability in event of costs of debts, but its foreign parent company will do.
In the same manner, a branch office is not a separate entity in its own rights and powers, despite the fact that it is a registered legal entity. The branch office is deemed as only an extension of its parent company, hence the full responsibility of the parent company for any debts or liabilities incurred by the branch office.
Unlike the above two types, a subsidiary is a private limited company in nature, and it is an independent legal entity from its foreign company, meaning that the liability of the foreign parent company is only limited to the contribution of share capital to the subsidiary.
1.2. Tax treatment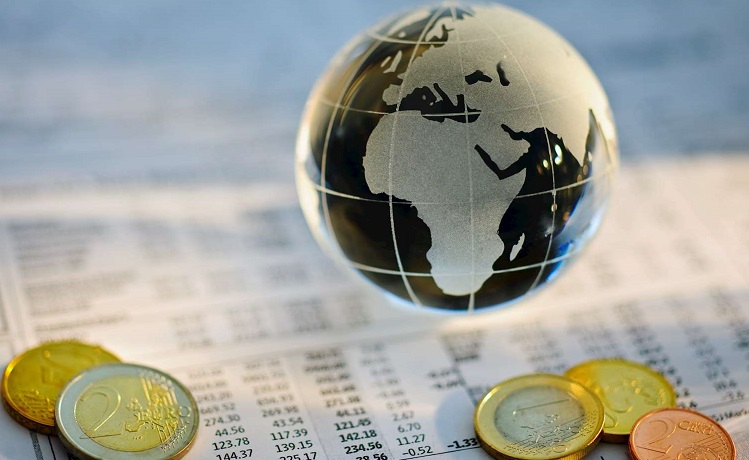 A big difference between a branch and a representative office lies in the tax obligations.
Both branch office and subsidiary can be taxed in the same manner as locally incorporated companies in most incorporation countries. By contrast, profit tax maybe not applicable to a representative office of foreign companies since this type of entity does not involve in any income-generating activities.
1.3. Statutory and compliance requirements
In addition to taxation, regulatory requirements for three registration options show their disparities, chief of which basic requirements of the appointment of key managerial personnel and the company name are a key to mention.
Typically, the names of the branch office and representative office need to be identical to that of the foreign company name. By contrast, a subsidiary company is more flexible in choosing its company name which can be similar or different from the overseas parent company. In most cases, any name that either has already been reserved or in use in the jurisdiction or is considered to be inappropriate or misleading, can be rejected for registration.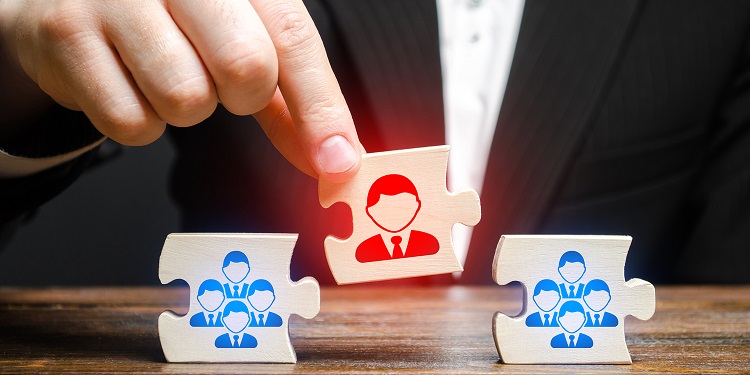 Requirements for appointing key officers are varied depending on which business structures that the foreign company decides to opt for.
Assume you are going to establish a subsidiary company in Hong Kong, then you need to satisfy the requirement of designating your intended company's key persons as below:
One either local or foreign director;
One either local or foreign shareholder; and
One local resident company secretary
The above positions can be in charge by either an individual or a body corporate.
The requirements for a branch office and a representative office, on the other hand, are much simpler. Only one authorized representative who should be a local resident in your country of incorporation is required for a branch office setup. For representative offices, you can be required to appoint a staff member from your overseas parent company. This member remarkably would act as the chief manager of your representative office. Support staff can also be added to most representative offices.
Registered business address
In general, you are required to have a physical address in your country of incorporation regardless of you establish a branch office, a representative office, or a subsidiary company.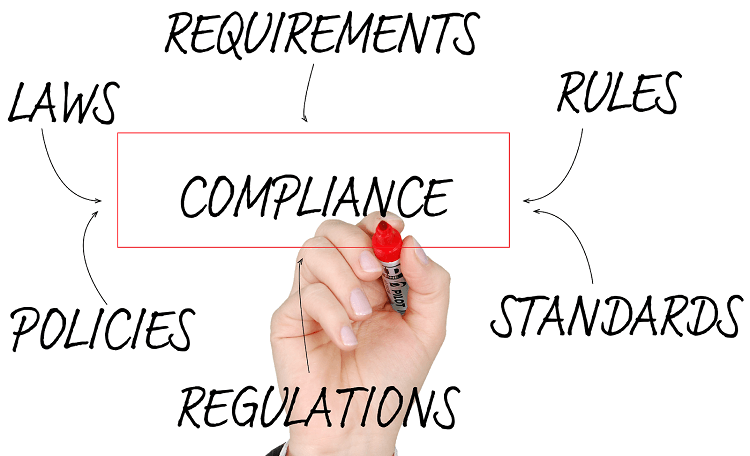 Reporting duties for post-registration are applicable to most subsidiaries and branch offices of foreign companies on an annual basis.
For example, you must annually file Tax Return together with audited accounts to the Inland Revenue Department if you choose to incorporate a private limited company in Hong Kong for it to act as your subsidiary company. The case is quite the same as a subsidiary company in Singapore, where you need to do annual return filing with the Singapore Company Registrar and annual tax filing with the Singapore Revenue Authorities.
Further interests in annual compliance requirements for a Hong Kong company can be read here
Unlike the other two types, a representative office does not engage in any profit relevant activities. For this reason, it is not required in compliance requirements of filing tax return or annual return with competent authorities like others. Note, however, that application for a Business Registration Certificate (including renewals of Certificate) is still a mandatory requirement for the representative office in some countries.
2. How to choose the best business structure for your foreign company
Whether you decide on a branch office, a representative office or a subsidiary, you should in advance well consider your foreign parent company's business goals, as well as the positives and negatives of each structure.
Below are some considerations for you:
It appears to be common that large corporations often let a slight bias towards opening a branch office, while most SMEs companies are more likely to choose a subsidiary or a representative office.
Branch office and subsidiary are in line with those engaging in profit-earning activities. However, the disadvantages of these two are their continuing compliance obligations namely audited accounts, filing annual return and tax returns, AGMs, etc.
Both branch office and subsidiary company bear no difference in the tax rates applied. Both are taxed as locally incorporated companies in the jurisdiction where would be established.
Representative offices act as a temporary vehicle. Despite the fact that it is not taxed by virtue of its non-profit making nature and less subject to compliance requirements than other business structures, it cannot generate any revenue for the foreign parent company.
In case of a subsidiary, its parent company's liability is limited to the amount of share capital contributed to the subsidiary, whereas a branch office and representative office have their liabilities extending to their parent company.
The table below helps you to clarify basic differences between a branch office, representative and subsidiary: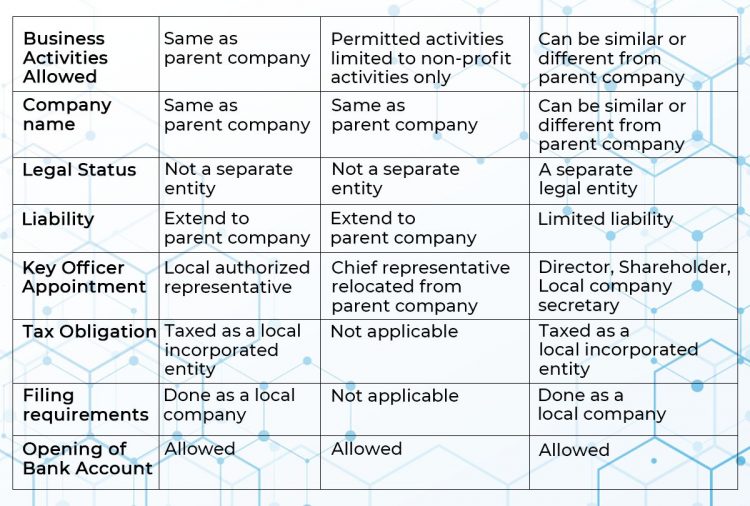 Still uncertain about branch vs subsidiary vs representative office – which type of business presence is best suited for your foreign company? Feel free to contact us for more useful advice!