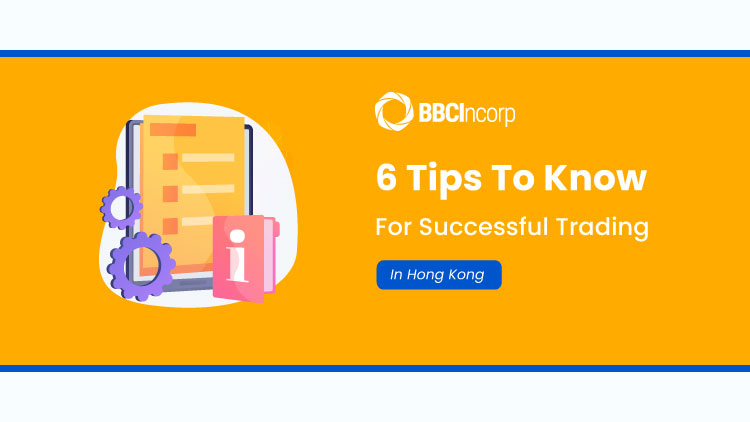 It's clear as day that trading companies operating in Hong Kong, a global financial and trading hub, enjoy numerous benefits, including free ports, strategic location, favorable tax regime, and many more. Nevertheless, the success of your business will depend on how you leverage these advantages.
Running a Hong Kong trading company means you will be particularly engaged in various processes such as legitimation, finance, logistics, market segmentation, and stakeholder management.
You can get your Hong Kong trading company off to a great start by following these 6 helpful tips.
Incorporate your trading business with the right structure
When you set up your Hong Kong trading company, it's important to choose the right business structure. This decision will affect your tax liabilities and the degree of your personal asset protection in lawsuits. The most common structures for Hong Kong trading companies are:
Sole trader
This is the simplest business structure, and it's perfect for small businesses. The owner is responsible for all the company's debts and liabilities.
Partnership
A partnership is similar to a sole trader, but it involves two or more owners. General partners are jointly liable for the company's debts and liabilities. Limited partners are free of the company's income tax.
Limited company
A limited company is a more formal business structure, and it offers some legal protections for the owners. The company is separate from its owners, and the owners are only liable for the company's debts up to the amount of their investment.
The most common structure
A private limited company is the most popular structure for Hong Kong trading companies. The shareholders are only liable for the amount they have invested in the company.
Private limited companies also have a great number of other benefits (e.g. lower tax rate, simple formation, less paperwork, etc.) compared to many other types of businesses.
Branch office
A branch office is a subsidiary of a foreign company, ideal for businesses looking to expand into Hong Kong without setting up a separate company. The branch office is subject to Hong Kong law, and the foreign company is responsible for its debts and liabilities.
Keep your business legit and stay up-to-date with the laws
One of the most essential things to do when launching a Hong Kong trading company is to make sure that you are operating per legal obligations. Hong Kong has many regulations and laws governing business operations, so familiarize yourself with these before starting your company.
Register the business with the Companies Registry
The first step of the legitimation process is registering your Hong Kong trading business to legally operate within the border. Typically, you must obtain a certificate of business registration and a certificate of incorporation.
Apply for required licenses and permits
When you set up your Hong Kong trading company, keep in mind that all necessary licenses and permits must be in place. Depending on the types of products you are going to import or export, the documents needed will vary. Consult with a legal expert in advance would be helpful.
Your business may be canceled if it fails to meet the licensing requirements.
Comply with legal obligations
After incorporation, your trading business will have to comply with certain legal obligations. Below are several common requirements for a trading company:
Renewal of registration documents
Renewal of licenses
Import or export clearance
Tax returns and annual return filing
Compliance with anti-money laundering regulations
Another important factor to take into account when running a Hong Kong trading company is keeping up with changes in the law. Hong Kong government frequently updates its regulations, so always be aware of these changes and ensure that your company is compliant. This will help you avoid any costly penalties and ensure compliance with local laws.
Familiarize yourself with the local market and get to know your customers
When running a business, it's important to know your local market and understand who your targeted customers are. This is especially true in the case of a trading company in Hong Kong.
Familiarizing yourself with the market will help you understand what products and services Hong Kong consumers are interested in, and improve your products and services accordingly, hence more sales are generated.
Don't forget to obtain a registered trademark for your trading business to prevent unauthorized usage by other parties as it may affect how local customers feel about your brand. Read this guide to trademark registration in Hong Kong if you wish to learn more.
Build strong relationships with key partners and suppliers
One of the most crucial aspects of developing a trading business in Hong Kong is building strong relationships with key partners and suppliers. This will help ensure a reliable source of products and services, which is essential for success in the competitive marketplace.
It is also important to cultivate good relationships with your customers to build trust and encourage repeat business. By establishing deep connections with all of your key partners and customers, you can build a prospering trading enterprise.
Plan your logistics carefully
Good logistic management ensures that you have an understanding of the products, as well as the transportation and delivery options available.
You will also need to make sure that accurate inventory tracking is in place to keep track of your stock levels and that your products are arriving and departing Hong Kong as planned.
Here is some advice to help you get started:
Choose the right transportation method: sea freight, air freight, or road freight
Consider the cost and time of delivery for each option
Arrange for customs clearance in advance
Make sure you have a plan B in case of unexpected delays
The success of any trading business depends on the efficient and timely delivery of goods. It's more productive to map a detailed plan for transporting your goods to and from Hong Kong beforehand.
Stay on top of business finances
Maintaining working capital for daily operations is an indispensable part of operating a business. Undoubtedly, banks play an important role in financial management processes.
Apart from basic functions such as sending and receiving deposits, one of the outstanding services of banks is issuing the Letter of Credit – a useful solution to ensure a trading business's working capital.
Opening a business account is usually simple for residents but quite troublesome for foreigners due to complex regulations and physical verification requirements. You must be aware of the consideration when choosing bank options for trading businesses.
The good thing is that you can benefit from alternative solutions such as a fintech account or an Electronic Money Institution (EMI) account (e.g. Currenxie, Airwallex, Wise, Statrys, etc.)
In addition to opening a business banking account, here are a few activities to manage the growth of your trading business's finances:
Keep proper track of your expense and profit records
This is the fundamental practice to make sure your business is healthy, at least financially. Tax season becomes much easier to bear and you can avoid the compliance break as well.
Make a budget and stick to it
The budget keeps your enterprise on track, enables you to notice any possible changes or unpleasant occurrences, and eventually ensures that you're making a profit.
Invest in advanced accounting software
You can save time to focus on other essential administrative tasks with the support of technology. Storing and sorting data would be much simpler. Moreover, this could serve as a base for future reference. Investing in this aspect will only bring you favorable results.
Start an offshore company in Hong Kong for overseas trade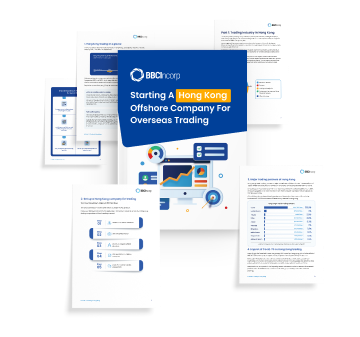 Conclusion
There is no doubt that running a trading company in Hong Kong can be very lucrative, but it also requires a great deal of hard work and planning. Developing a successful reputation as a Hong Kong trading business is possible if you follow the tips in this article.
If you are still reluctant about the requirements, consider reaching out to professionals or local legal consultants for help. You can drop us a message for further information or concerns about trading business in Hong Kong via service@bbcincorp.com for practical advice as well!
Disclaimer: While BBCIncorp strives to make the information on this website as timely and accurate as possible, the information itself is for reference purposes only. You should not substitute the information provided in this article for competent legal advice. Feel free to contact BBCIncorp's customer services for advice on your specific cases.
Share this article
Get helpful tips and info from our newsletter!
Stay in the know and be empowered with our strategic how-tos, resources, and guidelines.