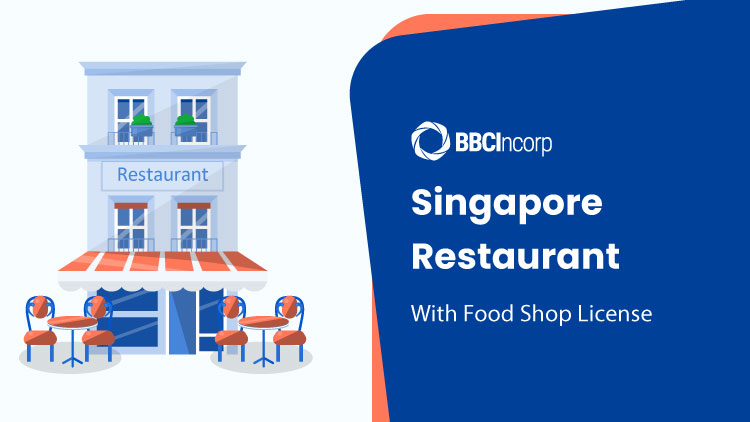 Renowned for its vibrant food landscape, Singapore is a culinary melting pot with a wide range of exciting dining options.
However, what sets Singapore apart is not just the variety of food, but also the enthusiasm of its residents and visitors to explore new tastes and experiences. This culinary passion provides an ideal environment for business owners to establish remarkable restaurants.
In this blog, we serve as your trusted guides, providing you with the recipe for a successful restaurant venture, including obtaining the necessary food license Singapore. Together, we'll set the table for your restaurant within Singapore's dynamic landscape.
Should I register my restaurant as a company in Singapore?
When opening a restaurant in Singapore, one question may come up: Should you register it as a company? While you can operate a restaurant using your individual full name without company registration, there are important factors you should consider.
Operating as an individual proprietor or partnership exposes you to unlimited personal liability, risking your personal assets. Not registering as a company may also limit your ability to obtain licenses or permits.
Therefore, registering your restaurant as a company can help address these challenges. It ensures compliance with the law, protects your personal assets, and maximizes growth potential.
However, it's crucial to be aware of the challenges associated with company registration, such as fulfilling regulatory requirements and managing ongoing administrative responsibilities. To navigate the incorporation process with ease, we highly recommend you engage professional incorporation services, especially if you are a foreigner.
How to craft the recipe to open a restaurant in Singapore?
Just like a skilled chef follows a recipe to create a delicious dish, crafting the incorporation of your restaurant requires careful attention to each step. Let's explore the vital steps that lay the foundation for your culinary venture in Singapore.
Obtaining an entrepreneur pass to run your restaurant
Before diving into registration, obtaining the necessary work visa is essential for foreign entrepreneurs planning to open a restaurant in Singapore.
In Singapore, EntrePass is specifically designed for foreign entrepreneurs who plan to establish and operate businesses. It serves as a critical permit that allows you to be physically present in Singapore, enabling your active involvement in the early stages of your restaurant's development.
By taking a hands-on role, you can effectively oversee and manage the daily operations of your restaurant, ensuring quality standards and establishing a strong foundation for success.
Setting the stage for your restaurant
Once you have obtained your entrepreneur pass, the next vital step is selecting a suitable business entity for your restaurant
This decision involves considering key factors such as liability protection, taxation implications, ownership structure, and operational flexibility. Each factor plays a significant role in determining the right business entity for your restaurant.
For example, a sole proprietorship provides maximum flexibility, and independent decision-making, while a partnership involves shared responsibilities and decision-making among partners.
By carefully considering these factors, you can choose the business entity that aligns with your vision, goals, and operational requirements.
Creating an authentic identity for your restaurant
The name you choose for your restaurant serves as the foundation for a unique identity that sets your establishment apart from the competition. Hence, there are important considerations to keep in mind when reserving a distinctive company name for your restaurant.
First and foremost, conducting a thorough company name search is crucial to ensure its uniqueness, availability, and compliance with the guidelines set by the Accounting and Corporate Regulatory Authority (ACRA). This step helps avoid conflicts with existing businesses and reinforces your brand identity.
While not mandatory, consider trademark protection for your restaurant's name, as it offers valuable benefits. Registering a trademark provides exclusive rights and legal protection against unauthorized use, safeguarding your brand identity and preventing confusion among consumers.
Formalizing your presence in Singapore with ACRA
With the chosen restaurant name in place, it's time to formalize your presence in Singapore by registering your restaurant with ACRA. This involves preparing and submitting important documents, which must be accurate and complete to ensure a smooth registration process.
Once your documents are ready, you can submit them to ACRA either online through their website or at the service center. ACRA will review your application, verify information, and conduct thorough checks to ensure compliance with legal requirements.
Upon approval, ACRA will issue a Certificate of Incorporation, which confirms the legal existence of your restaurant. Having obtained this certificate, you can confidently proceed to fulfill additional obligations, such as obtaining the necessary licenses and permits required for operating a restaurant in Singapore.
Establishing a financial system for operations
Setting up a solid financial system is a crucial step in establishing your restaurant's operations. One of the key aspects is opening a bank account tailored to your business needs.
When selecting a bank for your restaurant, consider its services and features that cater to the restaurant industry. Ensure that the bank account supports various payment methods like credit cards, debit cards, and mobile payment platforms to provide convenience for your customers and streamline your financial transactions.
If you plan to use a point-of-sale (POS) system, ensure it seamlessly integrates with the chosen bank account. This integration enables efficient processing of transactions, accurate record-keeping, and simplified reconciliation of sales data.
How to choose the ideal premise for your restaurant?
Now that you have successfully registered your restaurant and established its legal presence in Singapore, start looking for the ideal premise to set the groundwork for your restaurant's success.
Start by conducting thorough research on potential locations, considering factors like foot traffic, accessibility, transportation options, and the demographics of the area. These elements enhance your restaurant's visibility and attract more customers.
With potential premises in mind, it is time to negotiate lease terms with the property owner or agent. Ensure that the chosen premise is approved for restaurant use by checking with the Urban Redevelopment Authority (URA) and applying for a change of use if needed.
To solidify your intent to lease, draft and sign a Letter of Intent outlining agreed-upon terms. Before finalizing the leasing process, carefully review the Tenancy Agreement, which covers essential details such as lease duration, rental amount, and deposit requirements.
Furthermore, obtaining the Property Owner's Fire Certificate is crucial for prioritizing your restaurant's safety. This certificate confirms that your restaurant complies with fire safety standards, guaranteeing a secure environment for your operations and the well-being of your staff and customers.
What restaurant licenses do you need to operate in Singapore?
When establishing a restaurant in Singapore, obtaining the necessary licenses is essential for compliance and smooth operations.
These licenses can be categorized into five common types, some of which are obligatory for food establishments, while others are optional and depend on your specific business requirements.
Food Shop License
The Food Shop License is a mandatory requirement for all establishments involved in the preparation and sale. Approval from the Singapore Food Agency (SFA) is required before operating your restaurant.
To obtain this license, you must submit an application to SFA in Singapore via GoBusiness, making sure to meet all the requirements as per the law. It is important to note that relevant planning permission should be obtained before signing any Tenancy Agreement to comply with documentary requirements.
After submitting the application, SFA officers will conduct inspections of your premises to assess compliance with food safety regulations, providing guidance during the process. Once all requirements are met, SFA will issue the Food Shop License and collect the necessary fee.
The license is valid for 1 year and must be renewed annually to ensure compliance with food safety regulations.
Liquor License
To offer alcoholic beverages in your restaurant, you need to obtain a Liquor License from the Singapore Police Force. The type of license required depends on factors like the type of establishment and operating hours for serving alcohol.
It is crucial to adhere to the trading hours specified in the license and not allow liquor consumption outside of those hours.
Halal Certification
Halal Certification is essential if your restaurant intends to cater to the Muslim community. While not legally required, obtaining Halal Certification can significantly enhance your restaurant's appeal to Muslim customers.
This certification ensures that your establishment meets strict Halal standards in food preparation, handling, and serving. To obtain Halal Certification, you must engage with the Islamic Religious Council of Singapore (MUIS), the recognized certifying body responsible for evaluating and granting certification to restaurants.
Trader's license or registration
Trader's license or registration is necessary for restaurants engaged in importing, exporting, or transshipping food products. This ensures compliance with requirements to uphold food safety standards and maintain the quality of imported food products.
Restaurants are obligated to acquire a license in the following circumstances:
– Import, export, or transship meat and fish products
– Import or transship fresh fruits and vegetables
– Import fresh table eggs
Meanwhile, the requirement for registration arises when:
– Import processed food and food appliances
Public Entertainment Establishment License
Public Entertainment Establishment License, obtained from the Singapore Police Force, may be necessary for restaurants offering public entertainment such as live music performances, DJs, or karaoke. The license conditions and guidelines vary based on the type of entertainment provided.
During the assessment, the police evaluate the suitability of the location and its vicinity. Licenses are generally not granted in certain Historic Conservation Areas to preserve their unique character. Therefore, selecting the right location is crucial to comply with licensing regulations and preserve the charm of heritage zones.
How to assemble your star kitchen team?
In Singapore, the restaurant industry faces challenges in attracting local talent, leading restaurant owners to consider hiring foreigners to create a diverse team. It's important to note that foreign candidates must have the necessary work permits to legally work in Singapore.
Once your kitchen team is in place, effective management is key to a productive operation. Maintain employee satisfaction through proper salary administration, accurate payroll procedures, and clear policies to promote trust and fairness among your team.
Empowering your team with training is crucial for their professional development and for delivering exceptional experiences to customers. Train your team in safe equipment handling, hygiene practices, and emergency procedures, while enhancing their culinary skills to deliver quality dishes that leave a lasting impression on diners.
What are tax obligations for Singapore restaurants?
Restaurants operating in Singapore are required to adhere to a range of tax obligations. Here are essential tax considerations that restaurant owners need to be aware of:
Goods and Services Tax (GST)
If your restaurant's annual taxable turnover exceeds SGD 1 million, you must register for Goods and Services Tax.
You are also required to charge GST on your taxable supplies and submit regular GST returns to the Inland Revenue Authority of Singapore (IRAS).
Restaurants that are incorporated as companies are subject to corporate income tax, which is set at the rate of 17%.
In addition, you need to file an annual corporate income tax return with IRAS, reporting your restaurant's income and expenses. Make sure you maintain proper accounting records and supporting documents to substantiate your tax filings.
If you have employees, you are responsible for deducting and remitting their monthly Central Provident Fund (CPF) contributions, which are mandatory social security contributions.
Moreover, you must withhold and submit the applicable income tax for your employees through the Auto-Inclusion Scheme (AIS) or other approved methods.
If your restaurant owns or rents commercial property in Singapore, you may be liable for property tax. Property tax is calculated based on the annual value of the property and is payable to the Singapore tax authorities.
Tax regulations and rates in Singapore may be subject to change. So, we recommend that you engage our Accounting and Tax Filing service to ensure accurate and timely compliance.
What's next?
In conclusion, establishing and running a successful restaurant in Singapore requires careful attention to various aspects, including incorporation, licenses, and annual compliance.
BBCIncorp understands the challenges you may face as a restaurant owner, and we are here to support you through chatbox or via service@bbcincorp.com.
Feel free to contact us to discuss your specific goals and allow us to guide you through the journey of incorporating your business in Singapore!
Disclaimer: While BBCIncorp strives to make the information on this website as timely and accurate as possible, the information itself is for reference purposes only. You should not substitute the information provided in this article for competent legal advice. Feel free to contact BBCIncorp's customer services for advice on your specific cases.
Share this article
Get helpful tips and info from our newsletter!
Stay in the know and be empowered with our strategic how-tos, resources, and guidelines.