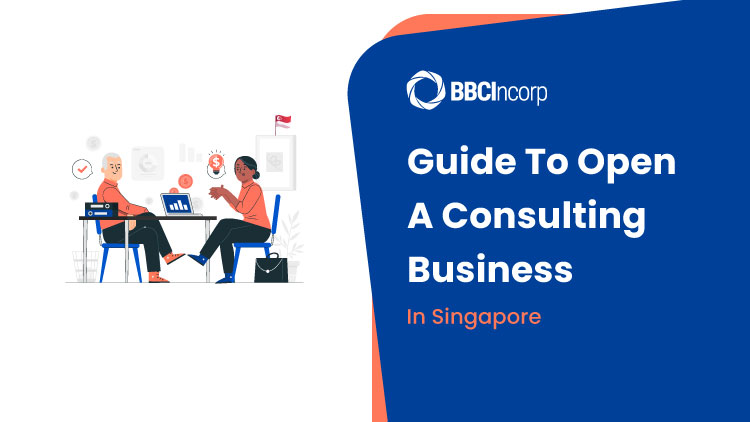 Starting a consulting business in Singapore can be a rewarding venture for individuals with expertise in a specific field, as this vibrant country offers a favorable business environment, robust infrastructure, and a well-established consulting industry.
In this article, we will explore the main features, highlighting the key elements and the main steps involved in registering a consulting business in Singapore.
The definition of a Singapore consulting company
A consulting business in Singapore refers to a professional service that offers expert advice, solutions, and guidance to individuals, or businesses seeking assistance in specific areas.
Particularly, consulting businesses often offer services such as:
Conducting process assessments and audits
Developing and implementing strategies
Performing market research and analysis
Advising on legal and regulatory compliance
And so forth.
Employees who work as consultants in these firms are typically experts with specialized knowledge, skills, and experience in their respective fields. You may work as an independent practitioner or within consulting firms to serve clients from various sectors.
Benefits of setting up a Singapore consulting business
Launching a consulting business in Singapore provides many advantages, leveraging the city-state's thriving business ecosystem, technological advancement, wide networking environment, and talented workforce. Several significant benefits are:
Development opportunities for diverse consulting services
Singapore is the ideal place to begin the journey of running your own consulting business, no matter what area you specialize in.
Whether you are starting a PR consulting business, an IT consulting company, or even a startup management consulting firm, your enterprise will receive the opportunity to grow by learning from industry leaders in your specific field.
Motivation for improvement from a strong networking environment
Singapore's collaborative ecosystem facilitates access to a wide range of resources, from industry insights, and training programs, to networking opportunities for consulting companies.
Additionally, Singapore attracts multiple businesses worldwide, enabling your company to gain connections and get motivated for improvement by leveraging networking into its own growth.
Profitability from the high and growing demand
A highly competitive business landscape like Singapore requires enterprises to understand the market complexities and comply with regulations, but not all of them have the expertise to do so.
By providing expert guidance to these clients, your Singapore consulting firms can seize various chances to profit from the high demand for consulting services here.
Highly-skilled employees offered by the talent pool
When operating as a consulting business in Singapore, you gain access to a rich talent pool full of professionals. Benefiting from an exceptional education system, your consultants have the capability to deliver value-added solutions to satisfy multinational clients, as well as attract potential investors.
Efficiency increase in operation
The digital landscape that focuses on the high-tech innovation of Singapore offers methods to streamline internal processes by cutting down non-value-added activities, thereby maximizing the use of available resources.
For instance, you will be able to engage with international clients with ease thanks to transparent digital management systems.
These benefits, coupled with Singapore's ideal location and reputation, provide an advantageous environment that fosters the growth and expansion of consulting businesses.
Business structure options for a consulting company
Selecting the right business structure plays a vital role in determining key business aspects, including ease of formation, taxation, and liability. Among various models, the most common choices for consulting businesses in Singapore are:
Sole Proprietorship
If you aim to have complete control and ownership of a consulting business, setting up a sole proprietorship is a suitable choice.
A sole proprietorship is the simplest form of Singapore business structure, offering ease of incorporation and management. However, since this structure is not a separate legal entity from its owner, you will have no liability protection.
In terms of taxation, this entity will pay tax based on its sole proprietor's personal income tax rate.
Opting for a sole proprietorship as a consulting business in Singapore may simplify obligations, but it also exposes your personal assets to potential claims, so make sure to weigh the pros and cons carefully.
Limited Liability Partnership
The Limited Liability Partnership (LLP) offers a balance between limited liability protection and operational flexibility, making it an attractive choice for consulting companies in Singapore.
Generally, there are several characteristics you should know about the LLP:
It is owned by at least two partners, who can be individuals or corporate entities (except trade unions).
It is a separate legal entity, offering owners limited liability protection.
It has fewer tax exemptions compared to private limited companies.
Within an LLP, the partners' liabilities are limited to their capital contributions. In case of misconduct by other partners, you are safely protected from the damage that may arise.
For foreign investors, partnering with a local individual or business presents an excellent opportunity for you both to learn from each other's insights and expertise.
Private Limited Company
The Private Limited Company (Pte. Ltd.) is the most popular option for a medium or large consulting company.
As a separate legal entity from its shareholders, the company can conduct business activities in its own name. Owners, or "shareholders" are also protected from personal liability beyond capital contribution.
Singapore private limited companies are eligible for many tax exemption schemes. Your income is only taxed at the company level, which means no double taxation. In addition, its scalable platform allows you to expand operations and cater to a much larger client base.
By gaining a thorough understanding of how business structures impact your company, you will be able to make an informed choice that aligns with your business objectives.
The process to open the consulting business
To establish a consulting business in Singapore, you must register your company with the Accounting and Corporate Regulatory Authority (ACRA). This process encompasses several key steps:
Step 1: Choose your consulting business type and name
One of the initial decisions is to decide on the type of consulting business you want to run.
A careful assessment of the industry your company majors in can help you determine which services will best satisfy your clients.
Regarding the company name, which is required to be distinctive and fully compliant with ACRA's requirements, it is recommended to conduct a thorough company name check and submit a name reservation application to secure the chosen name.
Step 2: Set up other company particulars
Once you have chosen the type of consulting business and selected the right name, let's move on to setting up other crucial company particulars:
Registered address
Every Singapore company is required to have a physical registered office address where official correspondence and notices can be sent.
Share capital
Your company's share capital will be categorized into two components: paid-up capital and unpaid share capital. As per the law in Singapore, the minimum paid-up capital for a Singapore Private Limited Company is SGD 1 or its equivalent in any currency.
Directors and shareholders
Singapore businesses must have a minimum of one company director appointed. While not all directors are required to be Singapore residents, at least one director must be a permanent resident or a local citizen. If you do not have a local director, you can engage the services of a nominee director.
Company secretary
A company secretary ensures that your business maintains compliance with the annual requirements set forth by Singapore authorities. As mandated by ACRA, every local company in Singapore must appoint at least one company secretary within six months of incorporation.
Therefore, if you are establishing a business in Singapore, appointing a qualified company secretary is a legal obligation. Conveniently, our company secretary services are available to assist your firm through the procedures.
Step 3: Register the company with the reserved name
To register a company in Singapore, you will need to submit the required documents and pay the applicable fees to ACRA. These documents typically include particulars like the company's constitution, details of the directors, shareholders, and the registered office address.
Upon receipt of the application, the authority will carefully review the submission to confirm if all requirements are met. ACRA will then issue a certificate of incorporation to your company.
Step 4: Obtain the necessary licenses and permits
After incorporation, you may need to apply for specific licenses and permits to operate legally. The licenses required will vary depending on the nature of your consulting services and industry.
For example, if you want to venture into the finance industry as an accounting consultant, your business might opt for a permit from the Singapore Chartered Accountants.
Step 5: Register for taxation with the authority
Registering for taxation involves obtaining a tax identification number, known as the Unique Entity Number (UEN), from the IRAS (Inland Revenue Authority of Singapore). During the registration process, you will need to provide important information such as your main business activities, estimated annual revenue, and the financial year-end for your business.
If you are struggling with launching a consulting business in Singapore (e.g. the establishment process, consulting firm startup costs, etc.), rest assured that our Singapore company incorporation services are here to provide a streamlined experience.
Key conclusion
To conclude, opening a consulting firm in Singapore offers a multitude of advantages for business growth and expansion. By following this comprehensive guide, you can create a solid foundation to thrive in this dynamic and competitive industry.
If there are any further inquiries regarding the process of opening a consulting firm or setting up a Singaporean business in general, simply reach out to our support team through service@bbcincorp.com for more advice.
Disclaimer: While BBCIncorp strives to make the information on this website as timely and accurate as possible, the information itself is for reference purposes only. You should not substitute the information provided in this article for competent legal advice. Feel free to contact BBCIncorp's customer services for advice on your specific cases.
Share this article
Get helpful tips and info from our newsletter!
Stay in the know and be empowered with our strategic how-tos, resources, and guidelines.